Boardman students salute veterans' sacrifices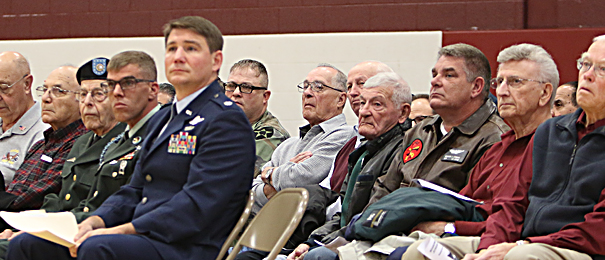 ---
By SAMANTHA PHILLIPS
sphillips@vindy.com
BOARDMAN
Congressman Tim Ryan Veterans Day

Video
Patriotic pride filled Glenwood Junior High gymnasium Friday, where more than 700 eighth-grade students and 26 local veterans gathered to honor the sacrifices made by the United States military at their Veteran's Day assembly.
Patriotic pride filled the Glenwood Junior High School gym, where more than 700 students and 26 local veterans gathered at the school's Veterans Day assembly to honor veterans' sacrifices.
State Rep. John Boccieri of Poland, D-59th, and U.S. Rep. Tim Ryan of Howland, D-13th, were guest speakers Friday.
Students gave speeches about the holiday and introduced the speakers.
Boccieri, a lieutenant colonel in the Air Force Reserve, told students that going to other countries while he served overseas made him appreciate freedoms that most Americans take for granted, such as getting an education.
"Freedom comes at a price, and we all have an obligation to serve each other. Maybe it's not in the military – maybe it's in our communities and our businesses – but we serve each other," he said.
Ryan presented some of the new challenges students face, including the opioid epidemic and global terrorism.
His advice to tackle these problems was to model veterans' behavior – to be vigorous, excellent, a good teammate and to serve.
"We're all on the same team," Ryan said. "You could be Democrats, Republicans. Whether you're a new immigrant or your family came to the United States 200 years ago, you need to care about each other."
Between the speeches, a student set up a table with an unoccupied seat and decorated it with special symbols for the White Table ceremony, which pays tribute to military members who are missing or were killed in action.
Peter Dohar, a former Marine, attended the assembly. He worked on U.S. CH-530 helicopters in Okinawa Island in Japan, Korea and the Philippines during the Gulf War in 1991. Now, he works at Price Heating & Cooling and plays in two local rock bands.
"This kind of stuff really takes me back to how folks should feel about this country," he said.
Dohar said he enjoys the camaraderie among military members, regardless of the branches in which they served. He said the younger generation needs to feel that camaraderie and to have the spirit to volunteer and make the world a better place.
Vince Carnevale, eighth-grade American history teacher, organized the assembly. He said it was the first time in five years the school had a big production for the holiday.
"I thought it would be a good idea to bring it back and give out students the opportunity to lead it," he said. "The kids really lived up to our expectation."
He expressed his pride for the students when he talked about their maturity and respect for the veterans. Many of the students have active-duty military members in their families, so he felt it was important to honor them.
Morgan Spearman, one of the students who spoke at the assembly, said she hopes to see the program continue.
"I think it's important because veterans have done so much for us," she said. "We need to somehow thank them. I feel everyone should try to act the same way as veterans and live the way they live."
More like this from vindy.com
November 11, 2017 12:01 a.m.