Valley businesses give back to vets this weekend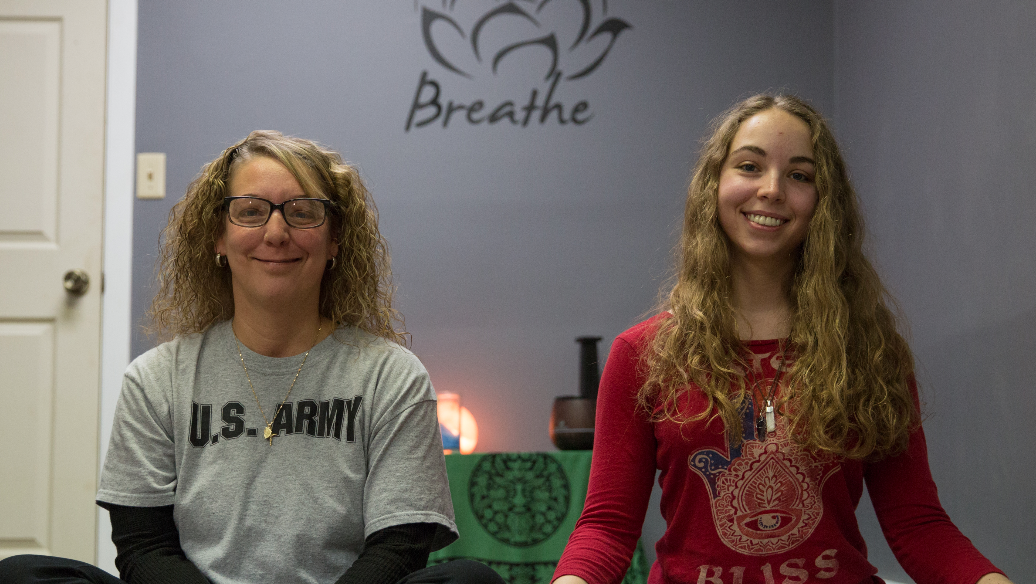 ---
By KALEA HALL
khall@vindy.com
COLUMBIANA
Ashley Wilson's late father, David Wilson, and her grandfathers served in the Navy.
Her sister, Shannon Greene, served in the Army.
Knowing the service her family members and others gave to their country, it was no question Wilson would offer free yoga classes for active-duty military members and veterans for Veterans Day at her new yoga studio, Enlightened Yoga in Columbiana.
"Even one class will teach them how to breathe deeper," she said. "I think there's a [yoga] practice for everybody. There's just so many physical benefits to the practice. Every system in your body can be balanced by yoga."
Wilson will offer the free classes today, Saturday and Sunday. The studio, at 20 S. Main St., offers these classes over the weekend: 9 a.m. gentle yoga and yoga basics today ; 8 a.m. stillness, 9:15 a.m. basic flow and 11 a.m. chair yoga on Saturday; and 9 a.m. stillness on Sunday.
"I am very proud ... extremely proud," Greene said of her sister.
Wilson isn't alone in giving back to active military members and veterans this weekend. From ice-cream cones to cups of coffee and complete meals, businesses are saying thank you with offers of all kinds.
Participating Handel's Homemade Ice Cream & Yogurt locations will give active military members and veterans a free single-scoop regular or sugar cone Saturday.
"From one veteran to another, this is our small way of saying thank you to military personnel who have sacrificed so much for our country," Leonard Fisher, a Vietnam veteran and president of Handel's, said in a statement.
At Primanti Bros., active military members and veterans will be offered a free classic Primanti's sandwich that's traditionally topped with French fries and coleslaw Saturday.
"Primanti Bros. has always been a supporter of the military," Ryan Wilkinson, director of marketing for Primanti's, said.
"The least we can do is offer one of our sandwiches. It's very important to us. We have done it for a long time."
Warren-based Covelli Enterprises will thank current service members and veterans at its Panera Bread locations today and O'Charley's locations Saturday.
Panera is offering a complimentary "You-Pick-Two" meal. O'Charley's will offer a complimentary meal all day Saturday, which includes either a $9.99 entree or $10 toward any entree of choice.
Covelli has made it an annual tradition to offer meals to active military members and veterans. The effort has exceeded $1 million in food and monetary donations since 2011.
"Although it's important to us to honor our veterans and military every day, this is a uniquely special opportunity for us and for each of our communities to say thank you," Sam Covelli, owner and operator of Covelli Enterprises, said in a statement.
"This is our chance to give something small back to those who have given so much and sacrificed so greatly for us and for our freedom."
SPECIALS
Below are area businesses offering Veterans Day specials. The specials are for veterans or active duty personnel only unless otherwise noted. Days of specials also noted below. Military ID or proof of military is required to receive most specials.
APPLEBEE'S: Free meal Saturday from a special menu.
BOB EVANS: Free meal from a list of six options Saturday.
BJ'S RESTAURANT AND BREWHOUSE: Free entree under $12.95 today and Saturday. In addition, during November former and active-duty military can reserve a pint of BJ's handcrafted beer (or BJ's handcrafted soda) as part of the restaurant's Buy a Hero a Beer program. Guests over age 21 may contribute $6 toward a pint of beer or soda for a military hero. There are three ways to contribute: online at www.bjsrestaurants.com/hero, on the BJ's mobile app, or directly on their restaurant bill.
BLOOMBERG EYECARE: During November, there's a $50 discount on out-of-pocket expenses.
BRANCH STREET COFFEE ROASTERS: Free drink of any kind Saturday.
BUFFALO WILD WINGS: On Saturday, the Boardman, Niles, Austintown and Alliance locations will provide a complimentary small order of wings – traditional or boneless – and fries.
CHILI'S: Offering a complimentary entree from a special menu Saturday.
CHUCK E. CHEESE: Free personal one-topping pizza with military ID and promo code 5500 on Saturday.
CRACKER BARREL: Free slice of double chocolate fudge Coca-Cola cake Saturday.
DENNY'S RESTAURANTS: Today offers a free "Build-Your-Own Grand Slam." The offer is valid from 5 a.m. to noon.
DUNKIN' DONUTS: Free doughnut of choice, while supplies last Saturday.
ENLIGHTENED YOGA: Free yoga class during Veterans Day weekend: Today-Sunday.
GENERATIONS COFFEE LAB: Free drink of any kind Saturday.
GREAT CLIPS: A free haircut Saturday or a free haircut card to use at a later date. Nonmilitary customers who purchase a service at Great Clips will receive a free haircut card to give to a veteran. Haircut cards are redeemable until Dec. 31.
HANDEL'S: On Saturday, participating locations will offer a free single-scoop regular or sugar cone.
IHOP: During November, participating IHOP restaurants will donate $1 from every Red, White & Blue Pancake Combo sold to the Children of Fallen Patriots Foundation as well as offer guests the opportunity to contribute. Today, IHOP will offer a free stack of three Red, White & Blue pancakes or a Red, White & Blue pancake combo between 7 a.m. to 7 p.m.
LONGHORN STEAKHOUSE: Free appetizer, free beverage and 10 percent off the entire bill on Saturday.
O'CHARLEY'S: A complimentary meal will be honored all day Saturday and includes either a $9.99 entrée or $10 toward any entree of choice.
OHIO DEPARTMENT OF NATURAL RESOURCES: Beginning today, the Ohio Department of Natural Resources will offer U.S. military veterans and active service members a 30 percent discount on lodge, cabin and campsite stays at Ohio State Parks from Nov. 10-30 of this year. This discount is subject to availability and applies to new reservations only. Veterans and active service members should use "2017VETERAN" in the promotion code box when making their reservation.
OLIVE GARDEN: On Saturday, receive a free entree off a limited menu.
OUTBACK STEAKHOUSE: Free "Bloomin' Onion" and nonalcoholic beverage Saturday.
PANERA BREAD: A complimentary "You-Pick-Two" meal will be honored all day today.
PERKINS: Free Magnificent Seven meal Saturday.
PRIMANTI BROS.: Free classic sandwich Saturday.
RED LOBSTER: A free appetizer or dessert from a special menu will be offered Saturday.
STARBUCKS: Free tall coffee for any veteran, active-duty military and military spouse Saturday.
TACTICAL PROTECTION & SURVEILLANCE: For the rest of the year, veterans will receive 15 percent off.
TEXAS ROADHOUSE: Free lunch from a special menu Saturday.
WESTERN RESERVE TRANSIT AUTHORITY: On Saturday, a ride on the WRTA fixed route service is free.
More like this from vindy.com