Campbell high schoolers attempt a cup-stacking world record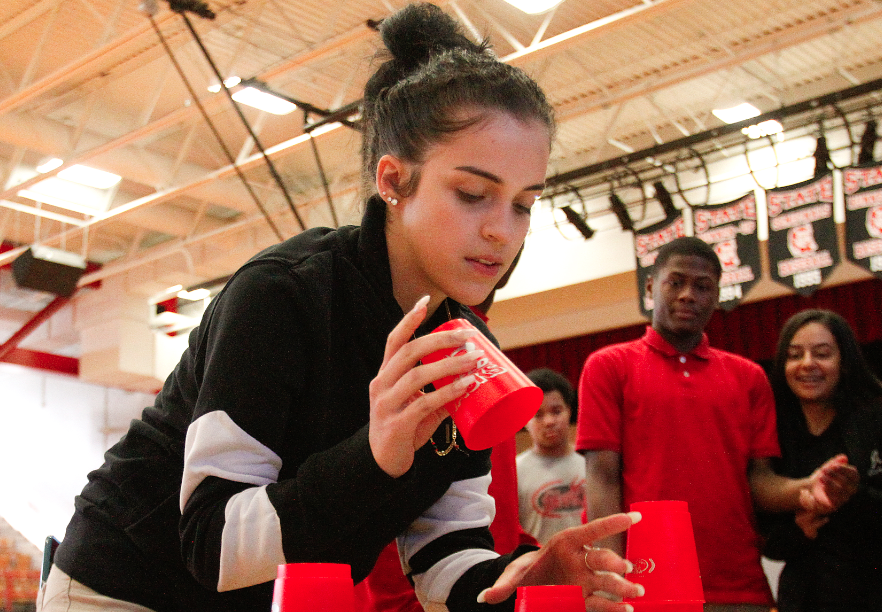 ---
CAMPBELL
More than 220 students at Campbell Memorial High School lent their hands and their stacking skills to a global effort to set a record in Guinness World Records.
Students from freshmen to seniors spent part of their Thursday in the school's gym, stacking up and breaking down plastic sport-stacking cups as part of this year's Stack Up! event, where participants from around the world attempted to set the record for most sport stackers competing in a single day.
This year the number to beat is 622,809 stackers throughout the day.
Sport stacking is a competitive event where participants race to see who can build up and break back down a stack of cups in the fastest time. The stacks – which are pyramids made from two base cups and a single cup atop the two – are built from three sets of three cups. The person who can make the pyramids and break them back down into their original stack the fastest is the winner.
Tula O'Neal, a health and physical education teacher, is one of the event organizers. She said the Stack Up! world-record attempt was a good way to challenge students to try something new and work together toward a collaborative goal.
"Stacking builds good hand-eye coordination, and it actually challenges both the left and right parts of the brain," O'Neal said. "Plus, it's bringing the school together. Our older students are helping to teach the younger students how to stack."
Anthony Kantaras, 15, a sophomore, and Yair Morales, 14, a freshman, were stacking as part of the world-record attempt. The morning of the event, Anthony had the school's record for fastest stack at slightly more than 3 seconds.
"What I like about stacking is that it's something new, and we're having fun," Anthony, who just began stacking earlier in the week, said. "When I first saw people stacking and saw how fast they went, I didn't think I could ever get close to that, but after practicing for a while, I ended up getting pretty fast."
Yair echoed Anthony's sentiments.
"It's fun, and it brought the school together. There's lots of people down here," Yair said.
O'Neal said the stacking challenge was well received by the students and teachers alike. One of the school's science, technology, engineering and mathematics teachers brought her students to the challenge to help them develop problem-solving skills.
"I've got students that are excited to get into the event," O'Neal said. "Plus, it's something our students can do and feel challenged by, regardless of their athleticism. We have some students who are fast stackers that don't participate in any sports."
The event was made possible for the high school through sponsorship by the Michael "Mickey" Soroka Foundation.
More like this from vindy.com