Hamad insists he did nothing wrong as he gets 36 years to life in double murder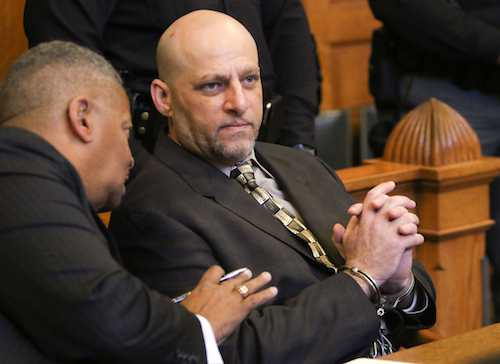 ---
By Ed Runyan
WARREN
Judge sentences Nasser Hamad to life for Howland killings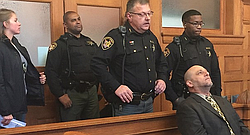 Video
The judge in the Nasser Hamad trial has sentenced Hamad to life in prison with parole eligibility after 36 years.
The Nasser Hamad aggravated-murder case ended much like it started: Hamad insisting he did nothing wrong.
"They approached me, and they gave me a beating. It just didn't go the way they meant for it to go. It's not my fault," he said Thursday.
Judge Ronald Rice of Trumbull County Common Pleas Court told Hamad, 48, he will spend at least the next 36 years behind bars as part of his life prison sentence for killing two young men and injuring three other people who came to his Howland home Feb. 25.
The judge rejected the prosecutors' request to run Hamad's two aggravated-murder convictions consecutively, which would have meant life in prison with parole eligibility after about 60 years.
The judge, who made Hamad aware during jury selection that he, like Hamad, has Arab bloodlines, told Hamad he exhibited "foolishness" for his actions against the five victims.
Judge Rice conceded the conflict in front of Hamad's home and business on state Route 46 "never would have happened" if April Trent-Vokes, 42, had not driven herself and four young males there to confront him over vulgar and threatening Facebook posts that he and two of the youths had exchanged that day.
"It is equally true that your response to her poor judgment caused the death of two young people," the judge said.
The confrontation had been months in the making, but it flared Feb. 25 when Hamad and Bryce Hendrickson, 19, son of his girlfriend, Tracy Hendrickson, started threatening each other on Facebook.
A cousin of Bryce Hendrickson, John Shively, 17, who had just moved to Warren with his mother, Trent-Vokes, 12 days earlier, joined the Facebook fight and later urged his mother to take him to Hamad's house.
She got out of her van first and yelled at Hamad about threatening Shively, who was standing nearby. Hamad tackled Shively, and the three other males got out of the van and joined in, assaulting and injuring Hamad.
When Hamad broke free, the five went back to their minivan near the road, and Hamad went in the house, got a gun, walked toward the van and fired it at the five. When his bullets ran out, he went back in the house to reload, went back to the van and fired some more.
Killed were Josh Haber, 19, and Joshua Williams, 20. Seriously injured were Trent-Vokes and Bryce Hendrickson. Shively suffered a grazing gunshot wound.
"Mr. Hamad, you had choices that day. You could have blocked their text messages and/or Facebook posts. You could have stayed in your house after the fight. You could have called police," the judge said.
Hamad told the judge during one of the two times he spoke: "I did not invite these people over. I did my best to avoid these people. Not one thing of that was brought out" in the trial.
During a long discourse, he covered a wide range of topics – trial evidence, family values, his treatment in jail and the politics of the death penalty and the prosecutor's office. The hearing also was a forum for several family members of the five victims to speak.
Brian Hendrickson, estranged husband of Tracy Hendrickson, father of Bryce Hendrickson, uncle of Joshua Williams and distant relative of Shively, said of Bryce: "He was shot. He recovered, but he never recovered mentally."
He said even though his son and Williams were cousins, they were more like brothers.
"I tried to talk to him every day, and I knew he was failing," he said of Bryce. "He felt guilty. Something was wrong in his mind, and I knew I lost him."
Though police suspect Bryce Hendrickson died Sept. 30 of a drug overdose in McDonald, Brian Hendrickson called his son's death "a suicide because he couldn't live anymore without Josh."
He said Hamad told Bryce to come over to Hamad's house Feb. 25 "no guns, no police, just fight. Well, when he didn't get the better half of the fight, he went in and got his gun," Hendrickson said.
Mary-Jo Hoso, a victim/witness advocate who works for the county prosecutor's office, read statements written by Williams' mother, Kristen Williams, and Bryan Patterson, father of Joshua Haber.
Williams said her son "stood up for what he believed in" and "did not like violence or drama and was always a peace keeper. Our son never harassed or fought with his killer ever."
She added: "We were, and always will be, proud of our son, who was a wonderful human being with a pure and gentle soul."
Williams lived in Warren.
His grandmother, Sandra Williams said the boys in the van were wrong to "harass, trespass and assault, but the punishment for those infractions would not have been a death sentence."
Haber's father said anyone who knew his son considered him "the most loyal, selfless person they knew."
He came to Ohio with his mother because he was "the man of the house" and wanted to protect his mother, Patterson said.
"There is no doubt that our young man always put family first, selflessly, even as he took his last breath," he said.
More like this from vindy.com
November 10, 2017 12:10 a.m.