Fitch Art Club members use free time to paint school mural at park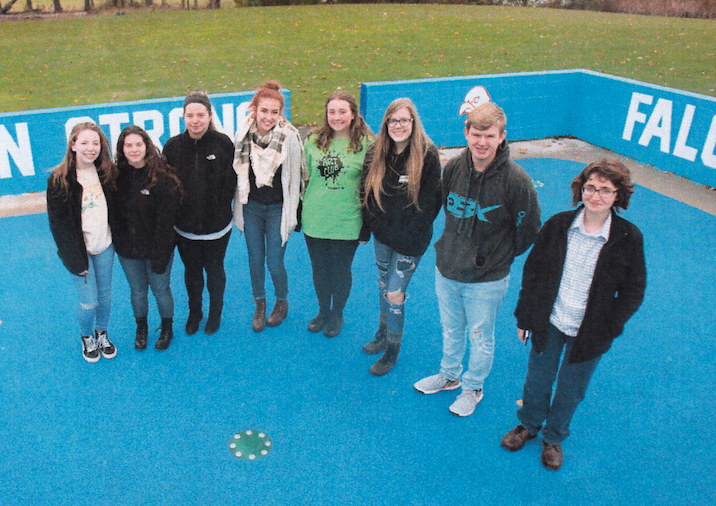 ---
By Billy Ludt
AUSTINTOWN
With help from some high-school students, Austintown Township Park's splash pad is looking a lot brighter.
The Austintown Fitch Art Club spent a few nights for several weeks at the park painting school-related graphics on the walls of the splash pad.
"It looks fabulous," said township parks Supervisor Todd Shaffer. "I love the job they did. I love the artwork that they came up with. What they did on the wall looks exactly like the drawing they sent me."
The art club takes on tasks such as making decorations for the school, and one of its recent projects was creating all the banners for spirit week. On top of school decoration, members bring ideas to the table and use their time to work on personal projects as well.
"I think it's good that they're able to see how their work impacts themselves and the people around them," said Adam Leskanic, art teacher and faculty adviser for the art club. "They see that they can give back to their community."
While the club has many members, Leskanic said there is a core group of about 12 students who come out for just about every project. Leskanic oversees the students but said the group's requirements are pretty loose due to many of its members being involved with other extracurricular activities or working jobs. "It was something these students didn't have to do," Shaffer said. "They came out on their own time."
Shaffer saw the splash pad's previously gray cinder-block walls as an opportunity for a mural dedicated to Austintown. He reached out to Austintown schools, connected with Leskanic and sent over dimensions of the splash pad's walls.
Within two days, Leskanic and the art club sent back ideas, and Shaffer gave his approval.
"Painting went pretty smoothly," said Madison Gerren, art club president. "We got it done a lot faster than we had anticipated, and we came out some nights in the cold and rain to paint."
The splash pad, popular among the park's younger crowd, is now painted light blue. It bears Austintown schools mascot Freddie the Falcon, the school logo, an American flag and more falcons; and it reads "Austintown Falcons" and "Falcon Strong" in large white letters.
"It really makes the splash pad a lot nicer, and a lot more kid-friendly, and at the same time it promotes Austintown," Shaffer said.
The splash pad is closed for the season and will reopen once the weather warms up.
More like this from vindy.com
November 10, 2017 12:07 a.m.