Can Cardinal Mooney's mastery of Steubenville continue?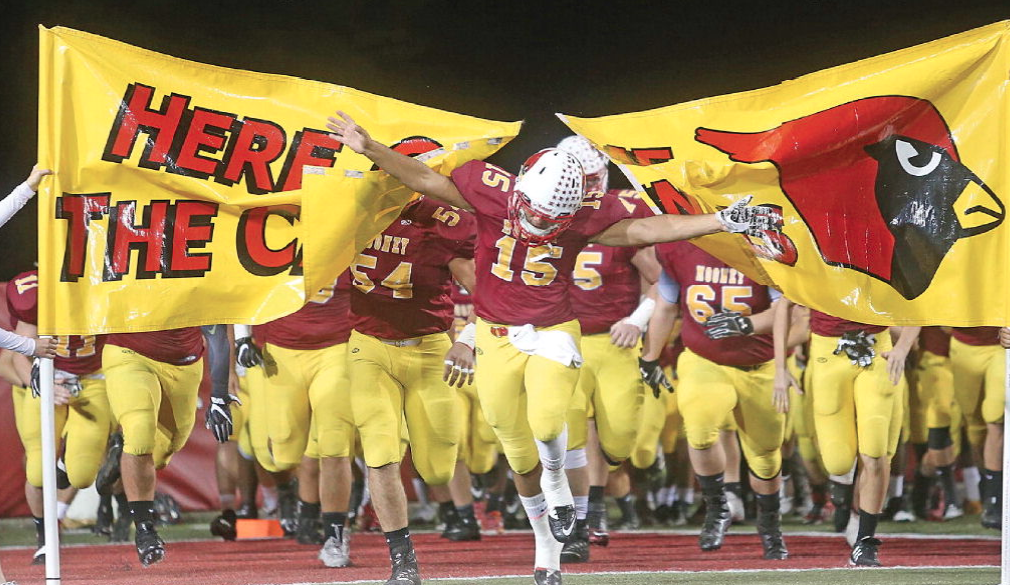 ---
By Steve Ruman
A giant red "S" adorns the midfield stripe of Reno Field at Harding Stadium.
The "S" of course, stands for Steubenville, whose high school football team has called the stadium its home since 1930.
The letter might as well stand for Superman, in recognition of Steubenville's accomplishments on the gridiron.
Steubenville (11-0) is in the playoffs for the 30th time. Following its 49-14 win over Salem last Friday, Big Red owns a 62-26 post-season record, which includes eight trips to the state finals, and three state championships.
Big Red has reached the Final Four in each of the last four years, including back-to-back trips to the title game in 2015 and 2016.
"Steubenville is the envy of high school football programs throughout the state," said Boardman coach Joe Ignazio. "The town shuts down whenever they play. They are well-coached. They consistently have tough, hard-nosed kids. It's just a great program."
However, every Superman has its kryptonite, and Steubenville is no exception.
Cardinal Mooney (7-4) owns its own impressive post-season resume. Its 29 playoff appearances includes a 63-20 record, eight state final appearances and three state titles.
Mooney also owns Steubenville.
In eight meetings between the pair of titans, the Cardinals own a 7-1 advantage over Big Red. To make matters worse for the Steubenville fan base, all the victories have come in the postseason.
Mooney and Steubenville will meet for a ninth time tonight, this time in a Division IV, Region 13 second-round game at Reilly Stadium in Salem. Yet despite its history of success against Big Red, this time Mooney — at least on paper — finds itself playing the role of the underdog.
Steubenville entered the tournament as the top-seeded team in Region 13. In fact, despite its D-IV status, Big Red compiled more computer points (33.677) than all but 11 teams statewide, regardless of division. Big Red was recently crowned the best D-IV team in the state in the final Associated Press poll.
So, has the kryptonite finally reached its date of expiration?
The reviews are mixed.
Steubenville coach Reno Saccoccia isn't ready to claim victory just yet, and he sure isn't ready to acknowledge Mooney as a mere mortal, ripe for the picking.
"Any time you line up against any opponent, you have to play the game, you have to earn it on the field," Saccoccia said. "And, more than any other program we've ever played, Mooney makes you earn it on the field. Our kids know all about Mooney. They know that Mooney isn't just another team.
"Whenever you go up against a Youngstown-area school, you're facing a special brand of football. You're going to face a disciplined, well-coached team every time. For the past 50 years, the best program to come out of Youngstown has been Mooney."
Steubenville rolled through the regular season, averaging 437 yards and 38 points per game. Senior quarterback Javon Davis (1,395 passing yards, 14 TDs) guides the Big Red offense. Senior Jacob Bernard (946 yards, 15 TDs) and sophomore Tayveon Crawford (534 yards, 5 TDs) pace the running game, while senior Johnny Agresta has pulled in a team-high 32 catches.
In last week's win over Salem, Bernard rushed for 131 yards and three touchdowns. As a team, Big Red rushed for 317 yards and six scores.
Steubenville also defeated Salem in the playoffs in 2015. Quakers coach Ron Johnson said that this year's Big Red squad is "significantly better" than the one he faced two years ago, which advanced to the D-IV title game before losing to Bishop Hartley, 31-28.
"This year's [Steubenville] team is so very deep, and so talented," Johnson said. "Defensively, they have some special shutdown corners who play man-to-man, allowing the defense to extend the box and bring everyone. The defensive line is exceptional.
"Offensively, their quarterback makes plays, and the stable of running backs they keep throwing at you is unreal. Their special teams unit is solid, and they don't make mistakes. You would really struggle to find a weakness."
Boardman played Steubenville and Mooney in back-to-back weeks this year, giving Ignazio a close-up look at both teams. On Sept. 15 the Spartans lost at Steubenville 42-21. One week later, they fell at home to Mooney 21-7.
Boardman advanced to the playoffs, losing a 28-23 decision at Massillon. The Spartans' schedule also included the likes of Massillon Jackson (8-3) and Canfield (11-0), along with Warren G. Harding and Austintown Fitch.
Ignazio said that Steubenville was a cut above the rest of the teams on his schedule.
"Steubenville was the best team we played all year," Ignazio said. "They are extremely physical on both sides of the ball. Offensively, they can spread things around with a number of play-makers. Defensively, they really disrupt a lot of what you want to do."
Ursuline coach Larry Kempe also had to deal with the unenviable task of facing both Steubenville and Mooney this year. On Oct. 6 his Irish lost at Steubenville 37-6. Two weeks later, the Irish fell to Mooney 49-21.
"Steubenville doesn't have the size that Mooney has, but boy are they quick, and they are relentless on both offense and defense," Kempe said. "They just keep coming at you. There is no let-up.
"You're talking about a team that is talented, deep, fundamentally sound and extremely well-coached. That's just a tough combination to overcome. Coaches always say, 'we have to play a perfect game to beat so-and-so.' Against Steubenville, most of the time even that's not nearly enough."
Kempe said he isn't surprised by Big Red's success.
"We're talking about a program which has had great continuity with its coaching staff, and the kids constantly buy into what is being taught, they work hard and they believe in what they are doing," Kempe said. "The fans are all in, and it seems as though the administration is very pro-athlete. They realize the important role athletics can play in student life."
Does this all add up to a win for Steubenville over its longtime nemesis?
Ignazio and Kempe both acknowledge that while Steubenville is an obvious favorite on paper, Mooney is, well, Mooney. The Cardinals are a Superman in their own right when it comes to playing Big Red.
"Mooney is really big up front, them and Akron St. V's were the two biggest teams we faced all year," Kempe said. "You know what you're getting from Mooney, but stopping them is another matter. They are very, very good at what they do."
Of special interest is the playing status of Mooney standout Antonio Page. The quarterback/linebacker exited last Friday's first-round win over Poland in the first quarter because of a knee injury. As of midweek, his return was questionable.
"[Page] makes the offense go, he's a talented runner and he can throw if he has to," Kempe said. "He steers the ship. He's a special talent."
Ignazio echoed the comments make by Kempe, noting that "Mooney's offense is built around Page."
"He's a game-changer, and if he's not out there Mooney will have its hands full, it will have to redesign its game plan," Ignazio said.
Saccoccia isn't having any of it.
"I've seen enough of Mooney to know that you have to play your best, you have to give them your best shot no matter who they put on the field," Saccoccia said. "We're talking about one of the premier programs in the state. We have to be at the top of our game."
Tonight, one of Ohio's Division IV superheroes will move on to the Region 13 title game.
Tonight's kickoff is slated for 7:30.
More like this from vindy.com