Farrell alumni induct 10 into Hall of Fame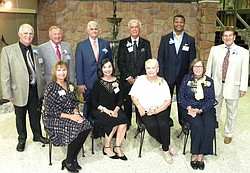 CONTRIBUTED PHOTO

Photo
Farrell High School Alumni Hall of Fame inducted its 2017 class at its 13th annual banquet Oct. 14 at the Park Inn by Radisson, 3377 New Castle Road, West Middlesex, Pa., before a crowd of more than 250 alumni and friends. The hall of fame has enshrined 129 honorees since its first dinner in 2005. Jim Raykie is executive director of the FAHF and Ted Pedas serves as adviser. Above, inductees, seated in front row, from left, are Dr. Melanie Komar-Samardija, '71; Tahme Gracenin Deitz, '67; Carole Chiccarino, accepting for her late husband, Jerry "Jay" Chiccarino, '58; and Annette Kryzsiek Thompson, '61. From left in back row are H. Mark Schreiber, '68; Dr. Robert J. Kudelko, '64; Robert A. Pacsi, '64; Frank A. Scoccia, '56; Vernon L. Stewart, '82; and Steve D. Gurrera, '65.
More like this from vindy.com
November 8, 2017 8:30 a.m.