Cardinal Mooney Class of 1962 has its 55th reunion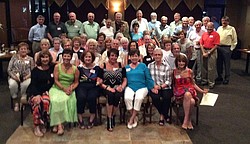 CONTRIBUTED PHOTO

Photo
The Cardinal Mooney High School Class of 1962 had its 55th class reunion recently at Johnny's Restaurant. The alumni came from as far as California, Colorado and Las Vegas. In Row 1, seated from left, are Margie Gaca Hoover, Audrea Marsch Neri, Maureen Reese Krull, Yvonne Joseph Marzano, Ginger Leone Kubala, Louise Restle Naples and Lorraine Naples Liberato. Row 2: Peggy McDermott Gresko, Sue Bailey Hunter, Ruth Yozwiak Lewis, Georgia Colla Leone, Rich Vendetti, Judy Tavalaro Soccorsi, Terry Archer Wilson and Mike Crogan. Row 3: Pat O'Connor Hughes, Patty Fecko Petrella, Patti Donnelly Koenig, Dennis Gruber, Tony Monaco and Paula Higgins Rakocy. Row 4: Partially hidden, Michele Tomaskovic Restivo, Karen Miller Gruber, Jean Phelan Casey, Eileen Hartwig Hall, partially hidden, Cynthia Courtney Landers, Monica Gura Bramer and Billie Schilling Sicafuse. Row 5: Tony Donofrio, Ray Lawrence, Dan Lyden, Rich Hughes, Mile Dohar, Sheryl Petrella, Pauline Scheetz Heid, Tony Lamancusa, John Dornstettar, Bill Burke, Don Gresko, John McLaughlin, Don Lapresta, Mike Boyle, Mick Cooney, Tom Nelis, Vince Lisi and Dan Doran. Missing from picture are: Jim Lopatta, Ray (Rip) Repasky, Pat Traficant, Gloria Yencha Traficant, Buzzy Papalia and Dan Rhattigan.
More like this from vindy.com
November 8, 2017 8:28 a.m.