Brown claims mayor's chair with 127 votes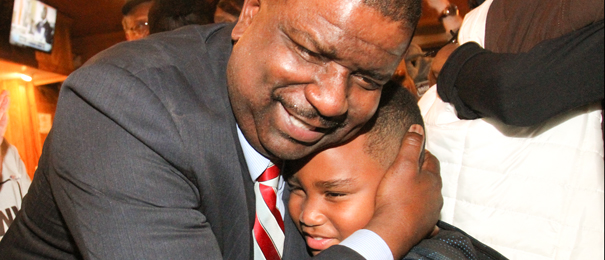 ---
By DAVID SKOLNICK
skolnick@vindy.com
YOUNGSTOWN
Jamael Tito Brown wins Youngstown mayoral race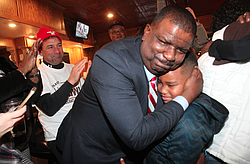 Video
Jamael Tito Brown speaks on winning the Youngstown mayoral race and putting a team together.
Mahoning County Election 2017 results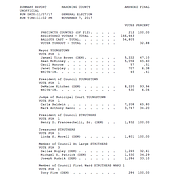 Document
Mahoning County Election 2017 results
In a nail-biter, Democrat Jamael Tito Brown won the Youngstown mayoral election by only 127 votes over Sean McKinney – a 1.01 percent margin of victory.
VIDEO: Jamael Tito Brown wins Youngstown mayoral race
DOCUMENT: Mahoning County 2017 Election results
"I always say, 'On any given Sunday,'" said Brown, a former middle linebacker using a football analogy. "A win is a win. Four years ago, I lost by 142 votes. Now I won by [127] votes. I have to find those who didn't vote for me and earn their respect and earn their accountability.
"I'll be the mayor for everyone, not just those who voted for me."
During the 2013 Democratic primary, Jamael Tito Brown lost by only 142 votes to John A. McNally, who would go on to win that year's general election for mayor. In a rematch in this past May's Democratic primary, Brown avenged that defeat, winning by 461 votes.
"When I came out of the primary, I said, 'We had to land the plane and refuel,' and we did that," said Brown, a former council president and 3rd Ward councilman. "The people of Youngstown stood with me and behind me. I'm ready to work [with] anyone who wants to move the city forward."
Brown said the win "was a long time coming," adding that he plans to enjoy this win and then look at what needs to be done to transition come Jan. 1.
"We'll start to put a team together," he said. "We'll put things in place. We'll look for some qualified candidates for our cabinet. Everyone who wants to be part of my team, we'll make sure we get the information out about people sending resumes."
There are 178 eligible provisional ballots to be counted. Provisional ballots are cast by people who change their names or addresses in the 30 days leading up to the general election, said Thomas McCabe, Mahoning County Board of Elections deputy director.
In close races, such as this, provisional votes are typically evenly split, McCabe said.
Board of elections employees will verify the validity of those ballots and won't open them until Nov. 18 at the earliest and Nov. 22 at the latest under state law.
McKinney declined to concede the race even though he would need more than 85 percent of the provisional votes to change Tuesday's results.
"There are still some votes that need to be counted so once those are all counted, if things don't change, I'll congratulate Mr. Brown for a race that was well run," he said. "I want to get all the votes counted and move on from there."
McKinney, a former buildings and grounds commissioner who resigned that job April 14 to run for mayor, declined further comment.
Brown captured 46.8 percent of the vote compared to 45.79 for McKinney, according to Tuesday's final but unofficial count. While the race between the top two contenders was close, it wasn't for the rest of the field.
Janet Tarpley, a former 6th Ward councilwoman, received only 6.45 percent of the vote while Cecil Monroe, who ran and fared poorly in 2009 and 2013 mayoral races, received only 0.53 percent of the vote in this election, barely edging out Calvin Hill Sr., a write-in candidate, who picked up 0.44 percent of the vote.
Meanwhile, the other citywide races were decisive victories.
Carla Baldwin, who won the Democratic primary for municipal court judge, received 65.64 percent of the vote compared to 34.36 percent for Mark Hanni. Baldwin is the first black woman elected judge in the city's history.
The seat is being vacated by Robert Milich, who couldn't run this year because of the state's age limit on judges.
Clerk of Courts Sarah Brown-Clark easily won her fourth six-year term Tuesday beating Dario Hunter, a Youngstown school board member. Brown-Clark received 73.62 percent of the vote to 26.38 for Hunter.
"We worked hard for that victory for the past 18 years in the clerk's office," Brown-Clark said. "There were a lot of misrepresentations about our office and what we do and we had to rise above those misrepresentations, which is what we did."
She said this next term would be her last as clerk of courts.
More like this from vindy.com