HAMAD TRIAL | Jury continues deliberation for punishment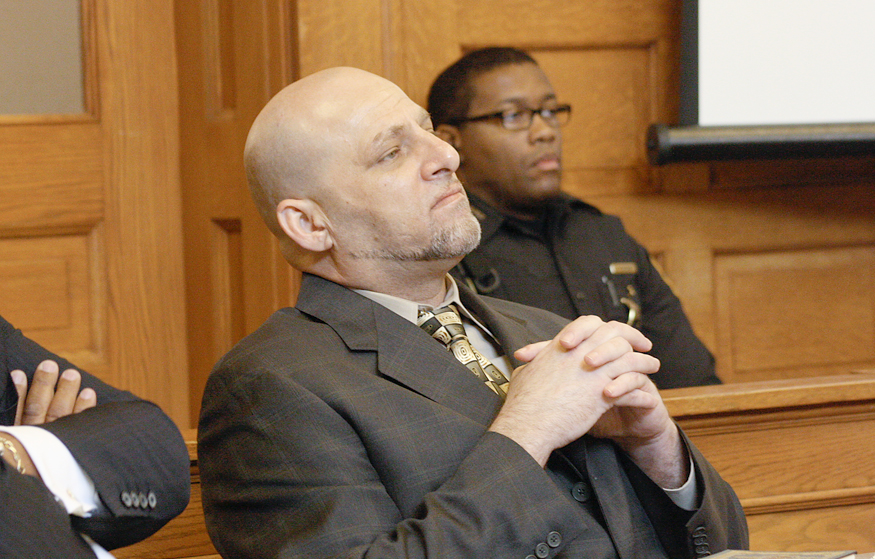 ---
4:45 p.m.
WARREN — Jurors in the Nasser Hamad aggravated murder trial have deliberated nearly non stop since 10:07 a.m. today on the punishment for Hamad with only two 15-minute breaks.
They took lunch at the courthouse and will be asked to deliberate until after 8 p.m., court officials say.
If they do not reach a verdict by late this evening, they will be sequestered in a local hotel and will return early Wednesday to resume deliberations.
Deliberations began after prosecutors and an attorney for the defense gave short closing arguments this morning. The judge then gave them jury instructions.
The lengthy deliberations in this phase are in contrast to the lightning fast decision these same jurors made in finding Hamad, 48, of state Route 46 in Howland, guilty of killing two people and injuring three others who came to Hamad's house Feb. 25 in a months-long dispute related to Hamad's girlfriend.
The jury is being asked to decide between the death penalty, life in prison without parole or life in prison with parole eligibility after 25 or 30 years.
10:15 a.m.
WARREN — The jury has just gone into the jury room to begin to deliberate the punishment for Nasser Hamad in his aggravated murder trial.
The jurors will only have several pages of jury forms to fill out to reach their decision. It took this jury only 1 1/2 hour to reach its guilty verdicts on all counts in the guilt/innocence phase of the trial Oct. 30.
The case is being heard by Judge Ronald Rice of Trumbull County Common Pleas Court.
10 a.m.
WARREN — The closing arguments are complete, and Judge Ronald Rice is giving jury instructions prior to the jury beginning deliberations later this morning.
9 a.m.
WARREN — Jurors in the Nasser Hamad aggravated murder trial are hearing closing arguments from attorneys for Hamad and the prosecution and later will move to the jury room to deliberate Hamad's punishment.
Chris Becker, assistant Trumbull County prosecutor, is giving his closing arguments first.
Becker said it's ironic that the jurors will be voting on Hamad's penalty on the day that Ohioans are voting in the general election.
"He attempted to kill or kill five people," Becker said, arguing that the aggravating circumstance that makes Hamad, 48, eligible for the death penalty vastly outweigh the mitigating factors Hamad's attorneys presented Monday.
They heard testimony from 11 mitigation witnesses Monday over about seven hours, including Dr. James Reardon, a psychologist who evaluated Hamad in the county jail and said Hamad suffered from post traumatic stress disorder at the time he shot and killed two young men and injured three other people who came to his home on state Route 46 in Howland Feb. 25.
They also heard from several of Hamad's closest relatives, including his sister, Helen Abraham of Cleveland, his son, Eimad and daughter Nadia, other relatives and friends and two people who knew him from his youth and his construction business.
Under Ohio law, prosecutors must prove beyond a reasonable doubt that the aggravating circumstances of Hamad intentionally killing two people or attempting to kill two or more people outweigh the mitigating factors presented Monday.
If they did, the jury must give Hamad the death penalty. If not, the jury can chose life in prison without parole or life in prison with parole eligibility after 25 or 30 years.
If the jury choses the death penalty, Judge Ronald Rice can affirm that penalty or chose one of the life options if he deems that the aggravating circumstances did not outweigh the mitigating factors.
It took this jury of six men and six women only about 1 1/2 hours to convict Hamad Oct. 30 of two counts of aggravated murder and six counts of attempted aggravated murder following five days of testimony.
The trial began four weeks ago with the Oct. 11 start of jury selection, but the jury had nearly a week off between its verdict in the guilt/innocence phase and the start of the punishment phase Monday.
More like this from vindy.com