Canfield sister physicians follow parents' footsteps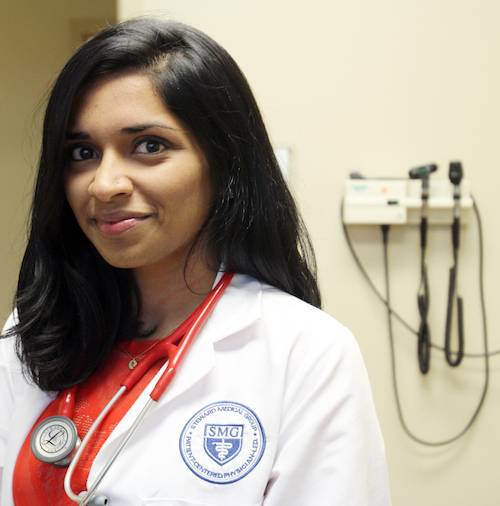 ---
CANFIELD
Practicing medicine is both the family business and a passion for the Padubidri family of Canfield.
Dr. Apurva Padubidri, 30, is a board-certified family medicine physician with the Steward Medical Group, new owner of Northside Regional Medical Center, and is in private outpatient practice in Austintown.
Her sister, Dr. Anokha Padubidri, 26, is in the third year of her residency in orthopedic surgery at the University of Indiana.
Anokha's husband, Dr. Anish Pattisapu of Columbus, is completing a residency in internal medicine this year and will start his cardiology fellowship in the spring.
The proud parents of these sister-physicians are their father, Dr. Arvind Padubidri, a plastic surgeon in private practice in Warren, and Dr. Rekha Padubidri, an internal-medicine physician at the U.S. Department of Veterans Affairs Clinic, also in Warren.
Apurva and Anokha, inspired to pursue careers in medicine by their parents, are graduates of Canfield High School, Apurva in 2005 and Anokha in 2009, where they were both active in numerous extracurricular activities ranging from sports to student government.
Apurva said her life was changed when, at 7, she accompanied her father to a hospital on "Take Your Child to Work Day."
She said it was really special watching the way her father interacted with his patients and the bond he had with each of them.
"I admire the fact that he is so passionate about improving the quality of his patients' lives and truly being there for them in some of their hardest times and being supportive and trying to solve their medical problems. I want to do the same thing," Apurva said.
"I especially like the continuity of care that my mom has with her patients, which is what led me to family medicine," she added.
She said she likes treating whole families and being a central figure for them. She said she is passionate about preventive medicine, including nutrition, women's health and adolescent medicine.
"I'm big into preventive medicine. I believe it is the future of medicine," said Apurva, who received a bachelor's degree from Kent State University and a doctorate of medicine at St. Matthews University School of Medicine in Grand Cayman, British West Indies.
She cited a need for strong primary care, especially female physicians, in the Mahoning Valley as reasons for establishing her practice in the Valley.
Also, she and her husband, Mark Bleahu, a 2005 graduate of Boardman High School, want to be near their families. Bleahu, who received his bachelor's degree in sociology at John Carroll University, is working part time as technical director for an event production company out of Colorado. He also is getting his master's degree in business administration at Youngstown State University, where he has a graduate assistantship running its 3-D printing lab – Launch Lab.
While shadowing both of her parents from a young age, Anokha said she was especially inspired by the way their patients adored them.
"I started observing my father in surgery from a very young age, and this motivated me to pursue a surgical field," she said.
When she was in high school, she tore her anterior cruciate ligament and meniscus during a basketball game, an injury she said drew her toward the field of orthopedic surgery.
From the beginning, their parents supported their daughters' dreams to become physicians and never pressured them to pursue careers in medicine.
But, they had one stipulation if they did, Apurva and Anokha agreed.
"We had to go into medicine for the right reasons. They warned me about the negative aspects and instilled in me that I needed to possess a true passion in order to pursue this career and be successful in it," said Apurva, who was elected chief resident of her program at Northside and is now a member of the program's faculty.
"My mother showed me the importance of a woman following her dreams and being able to balance family and a career in medicine," she said.
"Watching them work and seeing the passion which they had for their careers and patients helped me develop my interest in the field. They encouraged me to explore other fields to see if I found other things more interesting. Orthopedic surgery is considered a male-dominant field, and along the way, I received some advice from others trying to sway me away from this field. But, my parents supported me 100 percent," said Anokha, who did the combined bachelor of science/doctor of medicine degree program through the University of Akron and Northeast Ohio Medical University.
She and her husband, Anish, met during their freshman year of college.
Their father, who was born in India and came here in 2000 and trained at the Cleveland Clinic, said he and his wife are proud of their daughters.
More like this from vindy.com
November 5, 2017 12:10 a.m.