Church, motorcycle club event raises funds to buy toys for kids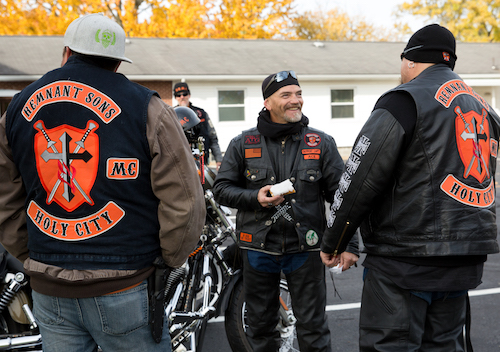 ---
By Sean Barron
BOARDMAN
Christ's Church may be reorganizing and have a small congregation, but you could say the church also is reaching out to the community in a big way.
"We're trying to help any needy family that needs help for Christmas," said the Rev. Bob Gilbert, pastor.
The Rev. Mr. Gilbert was among those who were revved up for that purpose, which was the driving force behind Saturday morning's first Thunder Run, which began at the church, 7155 Glenwood Ave.
About 20 people, many affiliated with Remnant Sons, a Christian-oriented motorcycle club, took part in the two-hour motorcycle ride through Mahoning and Columbiana counties. Proceeds from the outreach effort will be used to buy children's toys to distribute during the holidays, including for foster children and orphans, he noted.
So far, between $300 and $400 worth of toys has been donated, said Dale Sullivan, a church volunteer. Items include doll furniture, puzzles, building blocks and model trains and trucks.
A discussion about three weeks ago regarding possible church activities led to the idea to have the event, which has resulted in numerous donations, Sullivan added.
Happy to have traveled three hours from his Columbus home to take part in the run was Johnny Baxter, a member of that city's Remnant Sons chapter.
"I came to show this community the love of Jesus Christ and to make sure these kids have a good Christmas, you know," he said. "That's up our alley. Every kid should have a Christmas present to open."
Baxter, who does outreach work for those with addiction problems, explained that drug, alcohol and opioid addictions often exacerbate a family's inability to provide for the children. A primary reason is because some people with such problems sell items to get money to feed their addiction, he continued.
"Addictions consume every amount of finances," Baxter added. "It's very traumatic to a child to have joy in something and the next day it's gone. Kids are innocent, and no child should have to grow up that way."
Also taking part in the event were several members of the club's chapter in Beaver County, Pa.
During their ride, participants made at least three stops, including one in Lisbon, collecting one playing card at each stop. The person who returned to Christ's Church with the best hand was to win a free pizza and other prizes, Sullivan said, adding the event also featured a basket auction.
Donations will be accepted through Dec. 14. To make a monetary or gift donation, call the church at 330-726-6800 or Sullivan at 330-720-0057.
More like this from vindy.com
November 5, 2017 12:04 a.m.