Community comes together for opioid summit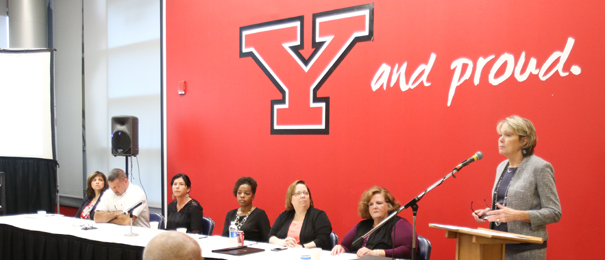 ---
By JORDYN GRZELEWSKI
jgrzelewski@vindy.com
YOUNGSTOWN
Wrapping up a discussion
about the opioid epidemic, a panel of experts agreed on the next step that's needed: Keep talking.
"Talk about the elephant in the room," said Dr. Joseph Sitarik of Neil Kennedy Recovery Center. "Take it out of the shadows and bring it into the light."
Sitarik was one of six panelists who spoke Friday at the Community Opioid Summit at Covelli Centre, organized by the Mahoning County Juvenile Court and the Mahoning County Mental Health and Recovery Board. The event drew an audience of approximately 100 people, and hundreds more watched via online streaming.
The panelists were: Carolyn Givens, executive director of Neil Kennedy; Brenda Heidinger, associate director of the Mahoning County Mental Health and Recovery Board; Mahoning County Juvenile Court Magistrate Carla Baldwin; Dr. Sitarik; Linette Stratford, assistant Mahoning County prosecutor; and a woman who did not want to be identified whose family has been affected by addiction. Anchor Derek Styer of 21 WFMJ-TV moderated.
Mahoning County Juvenile Court Judge Theresa Dellick said she organized the summit in response to the "hysteria that was in the community. The myths that were circulating as fact. And the need to educate the community, and also to bring us together as a community to tackle this problem."
She said she hoped to organize similar events in the future.
The U.S. senators from Ohio sent video messages to the forum. Both Rob Portman, a Cincinnati-area Republican, and Sherrod Brown, a Cleveland Democrat, applauded local efforts to combat the epidemic and highlighted legislation on which they've worked that aims to stop the flow of synthetic opioid fentanyl coming into the U.S.
Audience members had the opportunity to submit questions that panelists and others weighed in on.
One question was, how are drugs getting into our community?
A member of the Mahoning County Sheriff's Office explained that drugs are not produced in this area but shipped in to meet demand. He said drugs are produced overseas, then generally enter the country via the southern border.
Another question was what role economics has played in the addiction crisis.
Heidinger said there is no "sole cause" to the crisis, but that it is worse in areas with fewer economic opportunities.
"If it [opioids] hadn't been available, we may have seen something else happen. It is a factor, but it's not the only factor," she said.
In response to a question about the availability of treatment for people without insurance, Heidinger said the county mental health and recovery board receives funding to provide treatment for people who are indigent or uninsured.
Someone asked what can be done to discourage drug sales. Experts agreed that the solution must address the demand for drugs.
"The only answer is to stop the demand," said Stratford. "So if that's education, a shift in consciousness, we need something going on – and that's why we're all here today."
More like this from vindy.com