Union introduces new math program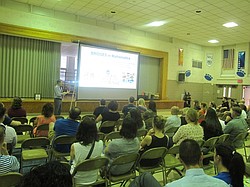 Photo
Neighbors | Zack Shively.Poland Union Elementary principal Michael Masucci gave a presentation covering the school's new Bridges math program to parents of kindergarten students in the school's auditorium on Sept. 21. He later gave the same presentation to the parents of the first and second grade students.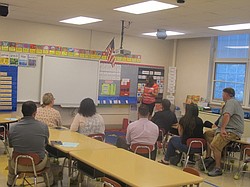 Photo
Neighbors | Zack Shively.Kindergarten teacher Kendra Gura explained what the students are learning to parents of her students. Gura and the parents discussed the new math program and what the students have learned and will be learning.
by ZACK SHIVELY
Poland Union Elementary School hosted a parents only event on Sept. 21 to explain the school's new approach to math instruction.
The school implemented the Bridges math program for each grade in the school, kindergarten through second. The other Poland schools have not adapted the Bridges program yet.
Principal Michael Masucci explained Bridges as a "fundamental shift" and described the school's use of the program as "the implementation of change." He compared it to the new style of thinking in the book and film "Moneyball," where a similar shift in thinking led to great results in baseball.
The Bridges curriculum has two parts to it: the Bridges portion and the Number Corner portion. Bridges includes different daily, weekly and monthly planning for instruction. Number Corner introduces reinforces different skills and concepts. The program can have up 75 minutes of math instruction daily.
Kindergarten teacher Kendra Gura said Bridges delivers more challenging lessons than what had been taught in previous years, but went on to say that the program uses a variety of instruction techniques and activities, which make the program more exciting for the students. She noted that they have not had one math worksheet through the first few weeks of school.
Gura also said the lessons involve the students much more and many lessons are student driven. Both Masucci and Gura talked about "work places" in the Bridges program. These work places ask students to work together in small groups to problem solve. These groups reinforce vocabulary and mathematical skills while making the students think critically.
Masucci gave parents a handout for any questions that parents may have on the new math program. Since the school put the program in place this year, the teachers and staff may not have the answers to questions right away.
The school has reached out to Canfield, Austintown and Struthers schools to discuss Bridges, since these schools have already implemented the program. These professional relationships between schools will hopefully lead to all the schools succeeding academically, Masucci said.
More like this from vindy.com