Union Elementary to host Holiday Shoppe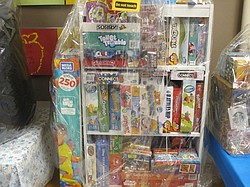 Photo
Neighbors | Zack Shively.Some of the prize baskets at Union Elementary's Holiday Shoppe will include toys and games for children and the family, such as the board game basket pictured, whil other prizes are aimed more for adults, such as a Poland Bulldog chopping board.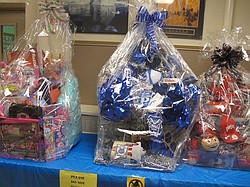 Photo
Neighbors | Zack Shively.Poland Union Elementary will hold their 14th annual Holiday Shoppe at the high school on Sat. Nov. 4 from 9 a.m. to 4 p.m. Over 90 craft vendors will set up in the high school gymnasium for the event. They will also hold raffles for over twenty gift baskets, including these three which have toys directed toward girls, Poland Bulldog gear and Ohio State apparel.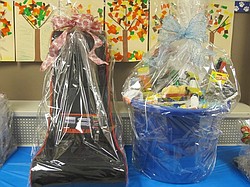 Photo
Neighbors | Zack Shively.Some prizes at Union's Holiday Shoppe on Nov. 4 from 9 a.m. to 4 p.m. will entertain, such as the gaming chair and Super NES Classic Edition basket on the left, and others serve a more practical purpose, such as the basket of cleaning materials on the right. One prize, the Family Fun Pack, includes Disney tickets, a 43 inch television and gift cards to local businesses.
by ZACK SHIVELY
Poland Union Elementary will host its 14th annual Holiday Shoppe at Poland Seminary High School on Nov. 4 from 9 a.m. until 4 p.m.
The event will have a craft show featuring more than 90 vendors and will raffle off more than a 20 basket raffles. It will also have a bake sale and a 50/50 raffle.
"All the money is used to enhance the experiences at school," said principal Michael Masucci.
The Union Elementary PTO will run the event under the guidance of organizer Mary Kushner. The planning took almost eight months to complete given the size of the event.
The PTO and school gather proceeds from the vendors, who bought space from the school, and the raffles.
Prizes include baskets with prizes such as a baskets with more than 30 board games, Ohio State apparel and Poland Bulldog gear.
The school's top prize will be a Family Fun Pack that includes a 43 inch television, gift card to local businesses and tickets to Disney Parks. Another notable prize they
will raffle for will be an autographed football from Bo Pelini and the Stoops brothers.
Last year's event saw more than 1,000 participants. The 50/50 raffle resulted in the winner going home with over $1,500.
The event is open to the public and allows the school to host other large events for the community and gives the PTO funding to help create events for the Union Elementary students.
More like this from vindy.com