Mooney, Poland face off again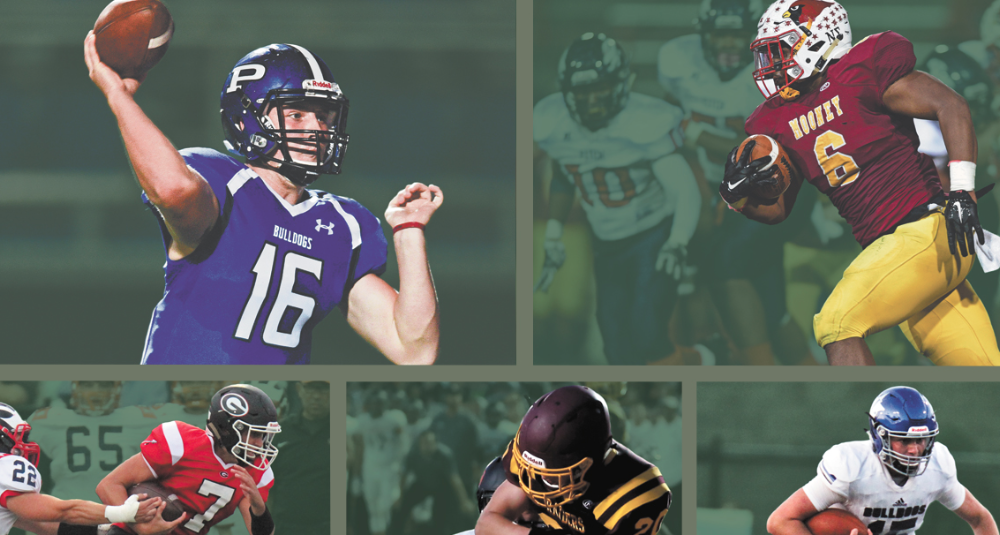 ---
Staff report
Most of the Mahoning Valley's high school football playoff teams are making road trips tonight. For those not interested in traveling, there are three games matching local teams.
One is a rare game between schools who used to play each other in many sports then stopped about 11 years ago.
Another is a showdown between a quarterback taking on former schoolmates.
And the third features two teams who no longer have a league of their own and will be playing for the second time in six weeks.
Let the games begin!
Mooney-Poland
Poland (8-2) and Mooney (6-4) may be from the same county, but their history with each other is scant — one game to be exact. The two sides met the Division III, Region 9 final in 2009. Mooney won that game, 24-7, and won the state title that year.
Once upon a time, Poland and Cardinal Mooney played each other regularly in sports other than football. Then in 2005 when today's seniors were in kindergarten, Poland sophomore running back Brandon Beachum (Penn State) announced he was transferring to Mooney.
A memorable boys basketball game followed, and the following school year, Poland and Mooney quietly stopped playing each other. Both sides prefer not to talk about what happened.
Tonight, Poland hosts a Cardinal Mooney team that's on a three-game winning streak. The Bulldogs (8-2) lost two of their last three heading into the playoffs, with the home side dropping a 38-0 decision to Canfield in Week 10.
"Obviously we made some mistakes and we need to fix a couple of things," Poland coach Ryan Williams said. "We're excited to play another week. We're playing a quality opponent and while we have to fix some things, we're thankful for the opportunity."
The Bulldogs finished fourth in Division IV, Region 13 and the Cardinals fifth.
Four of Mooney's six wins have come in the Mahoning Valley. The Cardinals entered Week 8 at 3-4, but then rattled off wins against Warren Harding, Ursuline and Austintown Fitch to make the playoffs.
Williams surmised that while there probably are some Poland natives on Mooney's roster, he didn't think it makes for a rivalry game.
"Every team we play has kids that some players of our kids know from other sports and avenues," Williams said. "You go down our schedule and we knew several kids on those teams."
Mooney coach P.J. Fecko was of the same mind.
"When you get to the playoffs, the most important thing is to just worry about yourselves," Fecko said. "Obviously, when you play a local team, the community gets involved. It creates a lot of buzz, coffee shop talk and talk at your workplace.
"You get a little more attention."
Girard-Lakeview
A pair of teams with similar records (9-1), but with different paths to the playoffs will square off in Cortland. Girard visits Lakeview in another Region 13 quarterfinal contest.
Lakeview lost its season opener to Howland (23-19), then ran off nine straight wins to finish third in Region 13 and claim the All-American Conference White Tier championship. The Bulldogs defeated three playoff teams — Poland, Struthers and Liberty.
"We played really hard against Howland, we showed up but we just got beat by a good team," said Lakeview coach Tom Pavlansky. "Luckily for us, we knew we still had a long season ahead of us.
"Our seniors really stepped up, and this team continued to get better as the year moved on."
Girard opened its season with nine straight wins, then lost its regular-season finale to Liberty, 41-28. The Leopards were the only team on Girard's schedule with a winning record, forcing the Indians to travel tonight.
"We were met with disappointing results last Friday, but maybe [the loss to Liberty] will serve as our wake-up call," Girard coach Pat Pearson said. "Our guys worked extremely hard to get to this point. They worked to get to Week 11, and here we are. We ended the regular season on a tough note, but now we're in the playoffs, and this is a season of its own."
Indians junior quarterback Mark Waid, the Valley's passing leader this fall, lives in Cortland. He once attended Lakeview schools and will be facing some former classmates.
The Indians and Bulldogs possess high-octane offenses, triggered by quarterbacks Waid and Zach Rogers.
Girard is averaging 48.3 points per contest while Lakeview is scoring at a 30.6 points-per-average clip.
Waid has completed 155 of 250 passes for 2,745 yards. He has thrown 31 touchdown passes and just three interceptions.
Girard's ground game is led by Waid (1,022 yards, 17 TDs) and A.J. Clardy (739 yards, 12 TDs). Senior Michael Belcik (56 receptions, 1,128 yards, 13 TDs) has been Waid's go-to receiver.
"Girard is an extremely talented opponent," Pavlansky said. "Really explosive on offense, and on defense they have given up a touchdown or less six times this year.
"We're facing what you would consider a typical Week 11 opponent, a really good, really well-coached playoff team."
Rogers has completed 106 of 174 passes (16 TDs) for 1,755 yards. Drew Munno pulled in 29 of those passes for 388 yards. Tony Crish (525 yards) and Evan Adair (317 yards) lead the rushing attack.
"Lakeview is a complete team, offensively they are as balanced as it gets," Pearson said. "Defensively, they really get at it, they fly to the football and they don't make mistakes."
Pearson said the matchup between Waid and Rogers should entertain fans.
"Both of the quarterbacks are great players and tremendous leaders," Pearson said. "Both players are perfect fits for their teams."
Girard and Lakeview last met in 2014, with the Indians prevailing 14-7.
Girard is making its eighth playoff appearance, and owns a 7-7 postseason record.
Lakeview is 5-8 in eight previous playoff appearances. The Bulldogs are playing their first home playoff game.
Crestview-South Range
This fall, the Rebels and Raiders were independents following the implosion in June of the Inter-Tri County League. Their 14 former league members felt Crestview and South Range were dominant so they formed two leagues — Mahoning Valley Athletic Conference and Eastern Ohio Athletic Conference.
A few of the former ITCL teams qualified for the playoffs but none earned a home game, strength of schedule (make that lack of strength of schedule) being why.
The Raiders blossomed, going 10-0 despite playing a bunch of unfamiliar long-distance opponents including Sharpsville (Pa.), Sharon (Pa.), St. Clairsville and Zanesville.
The Rebels also faced a beefed-up schedule playing such larger schools as West Branch, Struthers and Kent Roosevelt. They lost four games, but qualified as the eighth team in Division V, Region 17.
Both teams enter Week 11 on a roll. Since the Rebels' 34-7 loss to South Range in Week 6, they've defeated: Magnolia, W.Va. (54-9); Roosevelt (35-18); Indian Creek (28-25); and Lakeview, Pa. (39-0).
"That was a great way to finish the season," Crestview head coach Paul Cusick said. "The tough part came in the middle when we lost three in a row because we were banged up."
South Range head coach Dan Yeagley expects to see a different team in the rematch.
"Some of it is them getting healthy," Yeagley said. "They were [injured] early but have started meshing together. They are dangerous."
Tonight's game will be the third time the Raiders and Rebels have played in the postseason after a regular-season game.
"We're excited for them," Yeagley said, acknowledging both teams had to chart new paths after losing league competition. "Unfortunately, we have to meet in the first round."
Without a league title to challenge for, Cusick said the mission last summer was to find a way into the playoffs.
"That was our goal, to get back to playoffs," he said. "It was different without a league title."
The Rebels' top priority is stopping the Raiders' two-pronged attack of quarterback Aniello Buzzacco and running back Peyton Remish. In the first game, Remish gashed the Rebels for 136 yards and Buzzacco passed for 136 yards ran for another 77.
"It's a very respectful rivalry," Cusick said. "There's always a great atmosphere when [we play]."
Sportswriters Brian Dzenis and Tom Williams and correspondent Steve Ruman contributed to this story.
More like this from vindy.com