---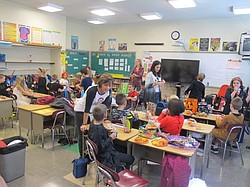 Photo
Neighbors | Zack Shively.After the parade, the Stadium Drive Elementary students enjoyed parties in their classrooms. Pictured is Lisa Hughes's fourth-grade class.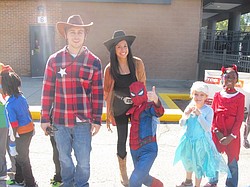 Photo
Neighbors | Zack Shively.West Boulevard Elementary School's classes walked completely around the school. They were the last of the elementary schools to have their parade.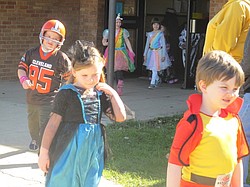 Photo
Neighbors | Zack Shively.Market Street Elementary School had its parade fifteen minutes after Robinwood Lane's, fifteen minutes before West Boulevard and cocurrently with Stadium Drive's parade. Parents lined the streets around the school to see their children.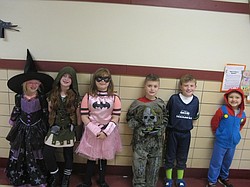 Photo
Neighbors | Zack Shively.Sharon Stitt's second-grade class at Stadium Drive Elementary dressed for its parade and room party. Pictured are, from left, Matilda Mausteller, Riley Savon, Skylar Kinney, Liam Schaper, Alek Rediak and Gabe Lawman.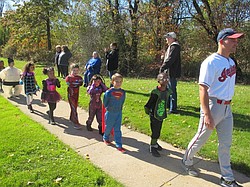 Photo
Neighbors | Zack Shively.Robinwood Lane Elementary School had a Halloween parade on Oct. 27. All four elementary schools had their own parade and parties.
By ZACK SHIVELY
The four Boardman elementary schools all had fall festival parades and parties on Oct. 27.
Students dressed in Halloween costumes and gathered by classes. Each class paraded around the schools as families lined up along the sidewalk and parking lots to take pictures. After the parades, the students headed back to their classrooms to have room parties.
Most schools scheduled the day's events about fifteen minutes apart. Robinwood Lane Elementary started first at 12:45 a.m., followed by Market Street Elementary and Stadium Drive Elementary at 1 p.m. and concluded with West Boulevard Elementary's parade at 1:15 p.m.
The classroom parties after the parades included snack and drinks for the students.
The classrooms not only had the teachers, but PTA members on hand to help the teachers.
Each school teaches grades kindergarten through fourth grade and has more than 300 students.
The schools had to do some planning, but the parades and parties are an annual tradition, each year building off of the success of the last and aiding in the planning process.