Warren students tour the town playing ukuleles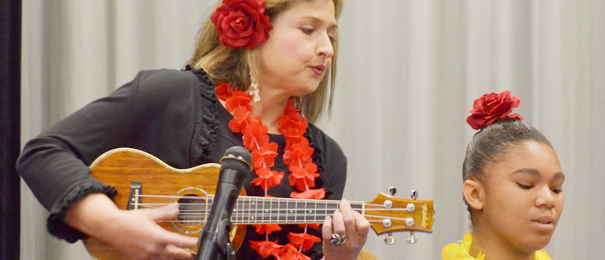 ---
By GRAIG GRAZIOSI
ggraziosi@vindy.com
WARREN
A little island lute combined with a couple dozen students and one determined teacher has resulted in one of the Mahoning Valley's most unique youth music programs.
The Jefferson Ukulele Orchestra – based out of Jefferson PK-8 in Warren – now in its second year, wrapped up a five-show "bus tour," culminating in a concert for students, parents and teachers last week.
Twenty-four fifth- and sixth-graders took to the stage before the school's award assembly and – dressed in matching blue shirts and colorful leis – and performed a selection of upbeat, Hawaiian island-inspired music. Students also performed a song-and-dance number for their family and peers.
Before the final show, the students played their instruments at five area nursing homes as well as at Eastwood Mall in Niles.
Marian Mihas, a Warren city schools music and technology teacher and orchestra director, first envisioned the orchestra when she encountered a ukulele while browsing instruments at a music store.
"I'd heard about how other schools had used ukuleles in their music programs, but I'd never attempted to use them myself," Mihas said. "Now the ukuleles have breathed new life into our music program."
She said her students initially weren't sure what to make of the ukuleles, but quickly became enthusiastic about them as they learned how to play them.
On a blog Mihas keeps to document the orchestra's development, one of her students, Jae-Lynn Allen, wrote, "It's the last day of school, I'm ready for summer break, but I love ukulele. We had a lot of memories."
David Blackmon, another student, was eager to talk about his time playing with the orchestra, saying his favorite memory was playing for the public at the mall and watching as a crowd formed to listen to them play.

Mihas was able to purchase 30 ukuleles, cases and chairs after receiving an $1,800 grant from the Raymond John Wean Foundation last year. This year, Mihas won the Turing Foundation's Innovative Teacher Mini-grant, which secured the orchestra funds for buses, curriculum, folding music stands, new instruments and a coordinated performance wardrobe. The grant was worth about $2,000.
Mihas intends to continue growing the orchestra and similar programs. She hopes that next year she will have the funds to allow students to sign out and take home their instruments to allow for after-school practice.
One day, she even hopes to see some of her most-talented students invited to play alongside local music professionals, such as the Youngstown Symphony Orchestra.
"They're big dreams," Mihas said. "But you never know. It could happen."
More like this from vindy.com