Pence tells graduates to expect opposition and persevere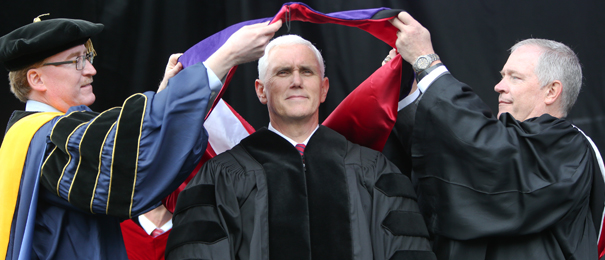 ---
By Justin Wier
GROVE CITY, PA.
Vice President Mike Pence told graduates at Grove City College that leadership brings both honor and opposition, so they should expect opposition and persevere.
Pence delivered the address at Grove City's 137th commencement Saturday. The college is a private Christian school in nearby Mercer County, Pa., with about 2,500 students.
The vice president told graduates that the college has fostered an identity of excellence and independence, noting that the school has refused all federal funding since the 1980s.
Pence encouraged graduates to take that independent spirit and lead with it.
"You hold within you all that you need to leave this place and succeed," Pence said. "All you need to add to it is courage."
To be leaders, the vice president said graduates must aspire to be men and women of character, inspiring others and animated by servitude rather than selfish ambition.
He also told graduates to be courageous in the face of criticism.
"Anyone who dreams big will encounter those who think small. Anyone who dares to step forward will find those who would rather they stay put. And anyone who thinks they can will surely hear from those who think they cannot," Pence said.
He said President Donald Trump is an example of leadership and perseverance in the face of criticism.
"I am proud to be vice president to a president who stands without apology for the sanctity of life and all the God-given liberties in the Constitution," Pence said.
It was a strong endorsement of his running mate after a tumultuous week for the Trump administration.
Pence used his own life as an example of persistence as well, telling graduates that he lost two elections before winning his congressional seat in 2000. If graduates persevere, they will prevail, he concluded.
"The future is yours," Pence said in closing. "Go get it."
Pence shook hands with each graduate who walked across the stage and received a degree.
Grove City College President Paul McNulty introduced Pence. He said the vice president and his wife are dear friends of his and his wife. McNulty served as deputy attorney general in the George W. Bush administration.
"We are truly blessed to have [the Pences] on our campus today," McNulty said.
Pence is the highest-ranking government official to visit Grove City College. Secretary of Housing and Urban Development Ben Carson delivered last year's address.
When Pence stepped to the lectern, he received a standing ovation.
Despite concerns students and faculty raised about inviting Pence to campus – including a student-penned op-ed in The New York Times – the only evidence of protest was off campus.
Dozens of protesters from the Slippery Rock Huddle, the Grove City College Advocates for Inclusion and Acceptance and the Democratic Women of Mercer County gathered on Main Street. Supporters of the administration showed up as well, but things remained peaceful.
"One of the men who came up to counter protest was applauding both sides for exercising their First A mendment rights," said Liam Neigh, a Penn State student who came to voice opposition to Pence. "I thought that was beautiful."
More like this from vindy.com