Western Reserve squeezes past Jackson-Milton in 11th
Western Reserve vs Jackson Milton Baseball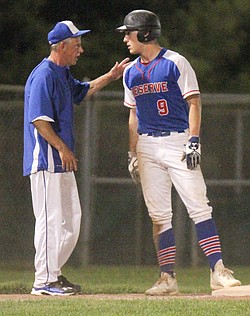 Gallery
Western Reserve beat Jackson Milton in 11 innings to win the district title.
Devils' Velasquez lays down game-winning bunt in the 11th
By DAN HINER
STRUTHERS
In the bottom of the 11th inning with runners on first and third, Western Reserve right fielder Dom Velasquez squared to lay down a suicide squeeze.
The ball bounced off the bat and dribble to the pitcher's mound. Velasquez was running on the first-base line and turned around just in time to see Wyatt Larimer cross home plate.
Photo Gallery: Western Reserve vs Jackson Milton Baseball
As cheers erupted from the stands, the Blue Devils realized they'd just beaten Jackson-Milton 4-3 to claim a fourth straight Division IV district title.
"Honestly, nothing was running through my head but, 'Get the bunt down,' " Velasquez said. "Wyatt is one of the faster guys I've ever seen and I knew if I got it on the ground he was gonna get there one way or another."
The game-winner was Velasquez's only hit of the night. He finished 1 for 6.
Jackson-Milton tried a suicide squeeze of its own earlier in the game. But the bunt was popped up to the pitcher and the Blue Devils turned an inning-ending double play.
Larimer pitched a complete game and allowed three runs on 10 hits and struck out nine.
It was the longest outing of his career. Larimer said he told Western Reserve head coach Ed Anthony that he wanted to pitch as long as he could.
"I knew, as a senior, I had to do something to help my team win," Larimer said. "To go all 11 innings, it's not often that it happens. I kept telling coach that there is no tomorrow and that I had to do something and I had to stay in there because I didn't know if I was gonna see another day of high school baseball in general."
Jackson-Milton pitchers Sebastian Lay and Eric Ostrowski combined to throw 11 innings and allowed 14 hits and one intentional walk. But the Bluejays did struggle in the field. Jackson-Milton committed seven errors, but the pitchers worked out of trouble all night.
While the Bluejays hit the ball well, they weren't able to convert those hits to runs. John Voland had the team's only RBI of the night. The other two runs scored on an error. Voland had two hits and scored a run.
"Our pitching staff is probably going to finish the year with an ERA right around 1.70," Jackson-Milton coach Kevin Hogue said. "For starters, they're talented kids, they bring it every night. Hats off to [Western Reserve]. Ed's a friend of mine,[(assistant coach] Jake Zatchok is a friend of mine. That's what this game's about. Friendships and bringing two towns together, and it was a good game."
Hogue said he knew the Blue Devils would be tough to beat since the teams split two regular-season games. And this was the third straight district final between the two teams.
Anthony called the game "a classic," not just because of how long it lasted but the stakes and the level of competition.
"We knew it was gonna be a good game, but we didn't know if was gonna be a classic — and that game was a classic by both team," he said. "Wyatt's pitch count was up there but with the new rules you can pitch until 125 [pitches]. We had him at 116 and that's the most we ever pitched him."
The Blue Devils will meet Dalton in a regional semifinal Thursday at The Pipe Yard in Lorain.
"We've been here before, three years in a row," Anthony said. "We've won that first round. Now I think we're gonna need to work on a few things here — our bunt coverages, leadoffs and stuff like that. But I want them to enjoy this one."
More like this from vindy.com