Resident becomes Queen of Poland for a day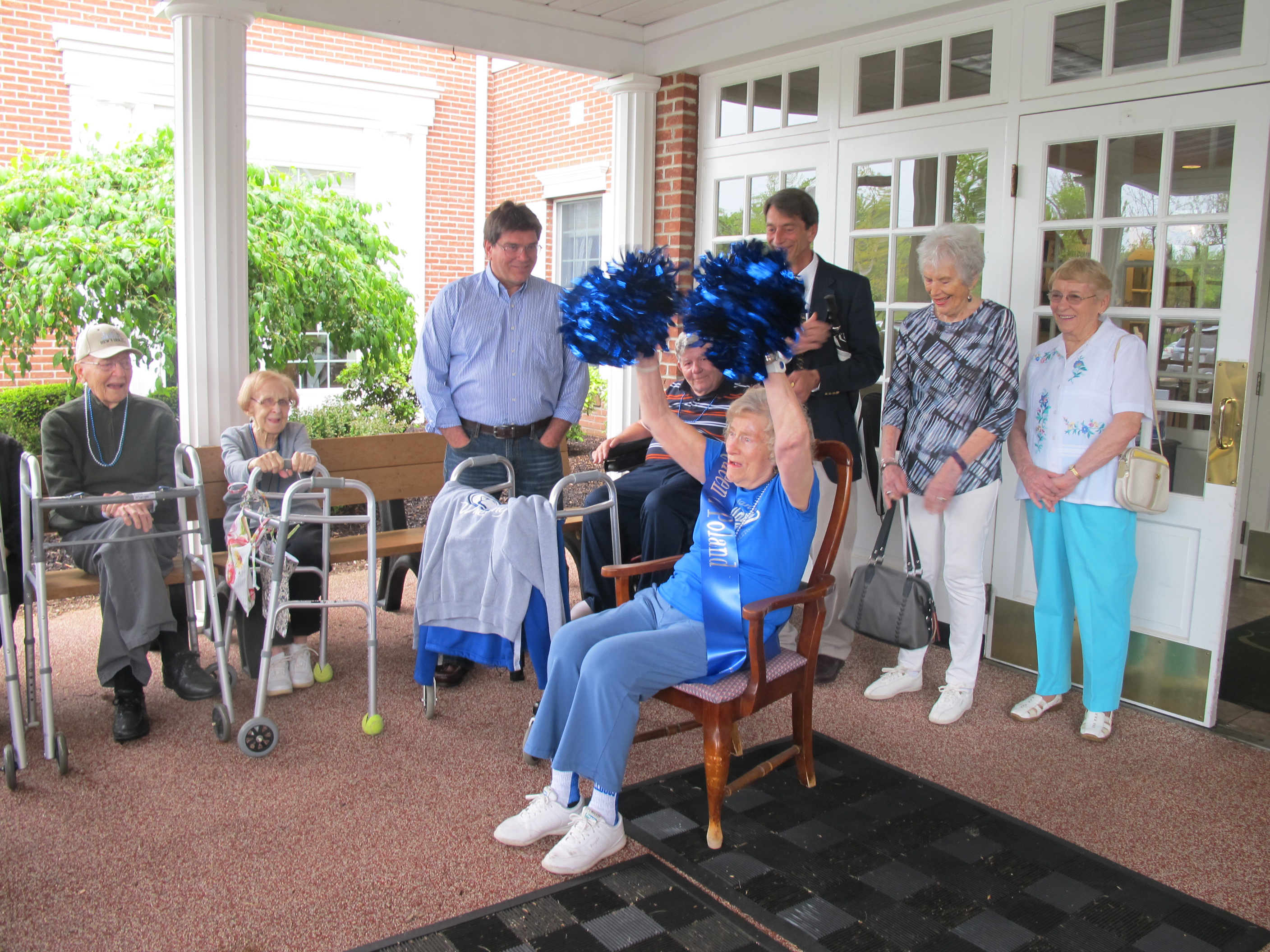 ---
By ALEXIS BARTOLOMUCCI
Life-long Poland resident Sara Hill-Strock became the Queen of Poland on May 1.
Hill-Strock, a 1946 graduate of Poland, got a surprise at Shepherd of the Valley from Poland Seminary High School band members, cheerleaders and football players. The students put on a small parade, performed a few cheers and enjoyed a lunch for Hill-Strock, who was brought to tears of joy when she saw what was happening.
Shepherd of the Valley activities director Lisa Slipkovich started planning the special surprise about four months ago. Slipkovich asks residents three questions to get an idea of what they would enjoy doing.
When Slipkovich contacted the high school, they were completely on board and willing to help out with whatever was needed. Principal Kevin Snyder worked with the football coach, cheerleading advisor and band instructor to come up with something to help out Slipkovich.
"Sara is a huge, huge Poland fan. You get her talking and she could go on and on," said Slipkovich.
Hill-Strock had an idea something was happening when she was told the activities department had planned for her to get her hair done. Then when she came down for breakfast, she noticed the dining area was adorned with Poland colors and decorations.
As Hill-Strock watched the parade that was happening just for her, one of the cheerleaders brought over her pom-poms and gave them to Hill-Strock. She cheered along with the students as the band played songs and the cheerleaders performed cheers.
"This is such a great thing, for us to be here is such an awesome idea. It's so caring and so thoughtful, I know it means a lot to her because she is such a Poland fan," said PSHS cheerleader Alyssa Morucci.
The celebration ended with a lunch with Hill-Strock's family, her friends, the Poland students and the residents and staff of Shepherd of the Valley. There were pictures the Poland Seminary High School yearbook advisor found from when Hill-Strock attended Poland and sent to Slipkovich. Those pictures were then blown up and placed around the room and Hill-Strock was given the opportunity to keep those photos when the celebration was over.
"I think it's a nice thing for residents, for staff morale," said Slipkovich. "This is really what I wanted for her."
More like this from vindy.com