Local chapter of Sons of the American Revolution celebrates Patriot's Day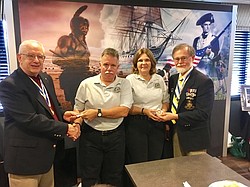 Photo
Neighbors | Submitted.Pictured are, from left, Phil Bracy, Mahoning Valley Chapter President, Ron Smith and Patricia Sexton co-founders of the"Wall" and Ohio State Treasurer and Northeastern Chapter President Steve Hinson presenting Fort Lauren coins.
The Mahoning Valley Chapter of the Sons of the American Revolution gathered at Davidson's restaurant in Cornersburg on April 22 to celebrate Patriot's Day.
Patriot's Day marks the 242nd anniversary of the battles of Lexington and Concord, which took place on April 19, 1775. Highlights of the program included an address by Ron Smith and Patricia Sexton co-founders of the traveling "Wall," which comprises 100 feet of panels, designed and commissioned to honor the men and women of all wars from the Revolution to the War on Terror.
They summed up their effort by saying "the Spirit of America's Story wants to kindle America's sense of patriotism, ignite our respect for those who wear uniforms and bring us all together as a country."
Ohio State Treasurer and Northeastern Chapter President Steve Hinson visited with the Mahoning Valley chapter and presented Fort Lauren coins to Smith and Sexton for their patriotic effort on behalf of veterans.
President Phil Bracy introduced Dan Matheke, Secretary for Northeastern Chapter, who administered the oath welcoming Russ and Christopher Wentz as new members of the Mahoning Valley Chapter. Matheke was sponsor for the Wentz's.
Bracy also announced that plans had been made to recruit in May and June in Trumbull County, chaired by Scott Davis. At the same time, John Opre will serve as chair for a recruitment effort in Columbiana County. Bracy went on to thank both Troy Bailey and Dan Matheke for all their efforts helping organize the Chapter last year.
The Sons of the American Revolution is a historical, educational and patriotic organization. The purposes of the society are to maintain and extend the institutions of American freedom, respect for National symbols, appreciation for true patriotism, the values of American citizenship, the unifying force of e pluribus unum that was created from the people of many nations, one nation and one people. Its members are male descendants of people who can document ancestry to those who served in the Revolutionary War, or who contributed to establishing the Independence of the United States.
If you would like information on the chapter contact Craig, Chapter Registrar, at cbcamp5@zoominternet.net or Phil at pjbracy@outlook.com.
More like this from vindy.com