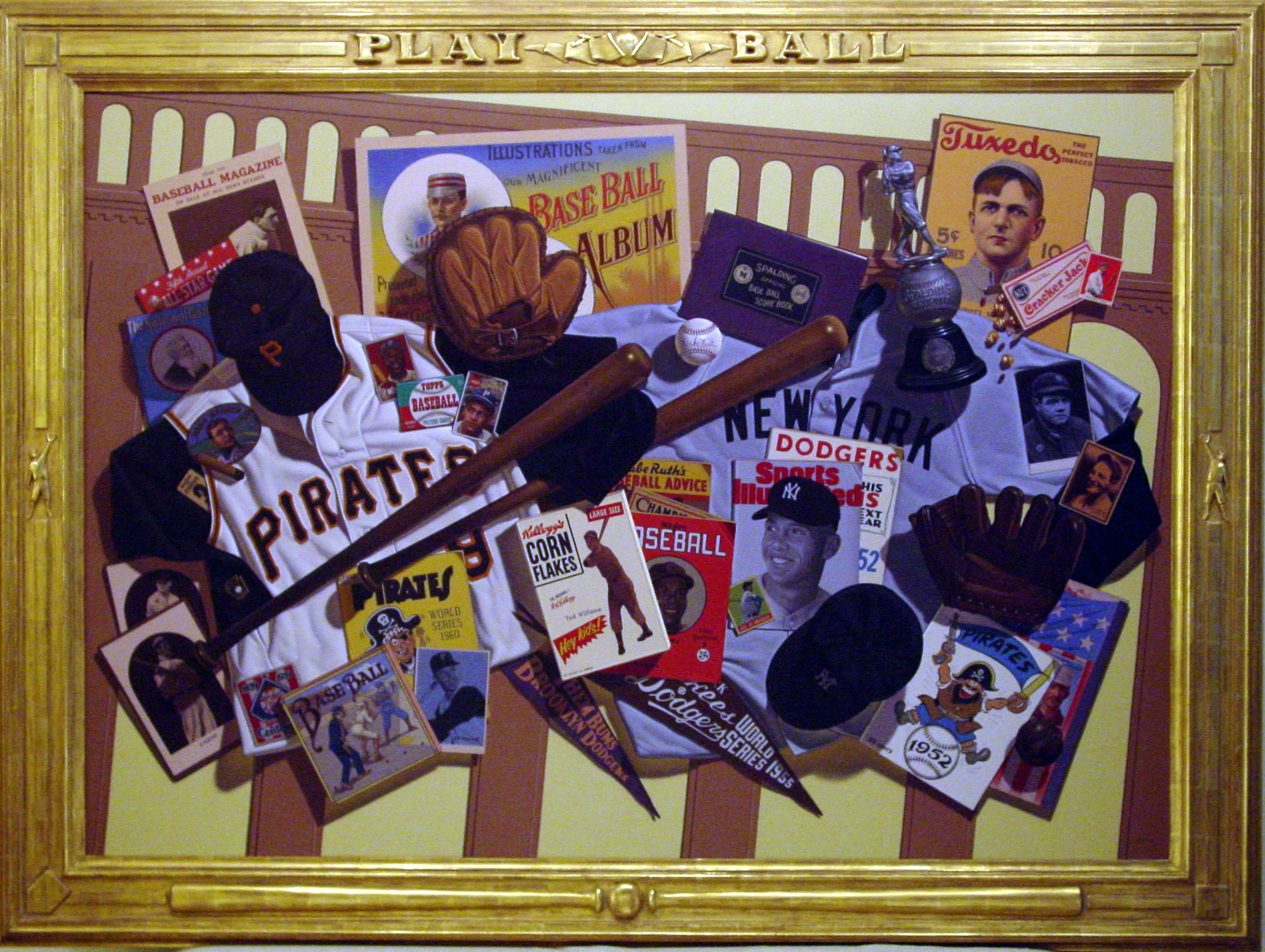 ---
Staff report
YOUNGSTOWN
A major exhibition of works by groundbreaking artist Gary Erbe will open Sunday at the Butler Institute of American Art and run through Aug. 6.
"Gary Erbe: 50 Year Retrospective" will be on display in the MacIntosh and Finnegan Hynes galleries on the second floor. A reception for the artist has yet to be scheduled.
Erbe, of Nutley, N.J., is known for his realistic collage-like paintings in which related paraphernalia appears to be layered. He dubbed his style Levitational Realism, because it gives the illusion of being three-dimensional. It builds on the style known as Trompe l'oeil painting, which literally means "to fool the eye."
The example of Erbe's unique style known best to Youngstowners would be "Baseball Album," a 48-inch by 68-inch oil painting.
"Baseball Album" includes pro baseball memorabilia related to the 1960 World Series between the Pittsburgh Pirates and the New York Yankees. It includes a folded Pittsburgh Pirates game shirt and photos of Roberto Clemente and Mickey Mantle, and it is part of the Butler's collection.
The Butler, in fact, commissioned the piece, which is the focal point of the museum's sports gallery.
Erbe finished "Baseball Album" in 2003, but it took him 14 months of continuous work to create the lifelike images. As with all Erbe paintings, no brush strokes or paint drips are evident in the painting.
"I wanted to recreate the icons of the golden age of baseball," Erbe explained at the time. "I started by spending a considerable amount of time collecting the artifacts and researching the memorabilia at the Baseball Hall of Fame in Cooperstown, New York."
Erbe, a self-taught painter, was born in Union City, N.J., in 1944. Unable to attend art school, he supported himself and his family as an engraver.
In 1967, Erbe discovered Trompe l'oeil painting and its masters. In 1969, he conceived of Levitational Realism, which is more contemporary and a departure from the 19th-century Trompe l'oeil masters.
By freeing objects from their natural surroundings via the illusion of levitation and through the juxtaposition of objects, he created thought-provoking paintings.
Erbe's work combines flat-space forms that are exaggerated and enhanced by shadow, light and color. The result is a three-dimensional illusion.
A catalog of the Erbe exhibition will be available for purchase in the Butler museum's gift store. The Butler is at 524 Wick Ave. Hours are noon to 4 p.m. Sunday and 11 a.m. to 4 p.m. Tuesday through Saturday. Admission is free.
Visitors should note that Wick Avenue is closed due to reconstruction. Follow posted detours for parking options at Youngstown State University.
More like this from vindy.com