YEA president says 'no' to a 7 percent raise
VINDICATOR EXCLUSIVE
YOUNGSTOWN
Proposed Re-opening of Youngstown School Agreement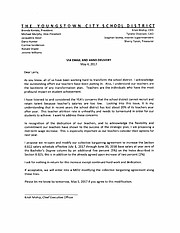 Document
Correspondence between Youngstown Schools CEO, Krish Mohip, and YEA President, Larry Ellis, regarding Mohip's proposed salary increase for YCSD teachers.
Youngstown Education Association President Larry Ellis said "no" on behalf of 518 district teachers to a 7-percent raise.
But he likely will have little say in the matter.
The raise, proposed by Youngstown City Schools CEO Krish Mohip through a collective bargaining agreement, is 5 percent on top of the 2 percent teachers already are guaranteed by their successor contract effective July 1, 2016.
Mohip said he proposed the raise in recognition of teachers' dedication and "to acknowledge [their] flexibility and commitment" to the strategic plan.
But Ellis rejected the offer Wednesday, saying that to allow Mohip to reopen the collective- bargaining agreement poses "significant risk" to teachers and students.
"We recognize the need to recruit and retain teachers in many ways including increasing salaries, however, it cannot come with the loss of all management rights," Ellis said in a press release Wednesday morning.
By the end of the day, Ellis learned Mohip is pushing forward with the raise, despite union president's dissension.
"This has to be a first – how does union leadership say no to a raise with no strings attached?" Mohip said.
The devil is in the details.
The authority allotted to Mohip in House Bill 70 supersedes YEA's Successor Collective Bargaining Agreement because of timing: HB 70 became effective in 2015 which is before the effective date of the successor contract.
HB 70 enables the Youngstown district's CEO to lead the schools with only state-appointed academic distress commission oversight. Both the CEO and the commission are now in place in the city.
Any items changed in the successor contract are open to Mohip's changes with the consultation of the academic distress commission chairman, Brian Benyo.
HB 70 states Mohip "may reopen any collective-bargaining agreement entered into, modified, renew or extended on or after the effective date of this section for the purpose of renegotiating its terms."
It continues to say that Mohip has the "sole discretion to designate any provisions of a collective- bargaining agreement as subject to reopening by providing a written notice to a bargaining representative."
Mohip originally contacted Ellis on May 4 with the hopes of giving teachers raises.
"I ask for nothing in return for this increase except continued hard work and dedication," Mohip's letter says.
Ellis issued a news release May 10, claiming the opposite.
"Mohip sent me a letter formally offering the teachers of YCSD a raise IF we would agree to put up on his chopping block all of the other contractual provisions that ALSO contribute to teacher recruitment and retention," the release states.
The release continues that while the YEA wouldn't agree to make "this dangerous sacrifice" it "would not oppose nor contest [Mohip's] effort to immediately implement such an increase."
"That's not how it works," an exasperated Mohip told The Vindicator on Wednesday afternoon. "And Mr. Ellis knows that's not how it works. YCSD is a public entity and pay is bound by the terms of the collective-bargaining agreement. The only way to increase teacher pay is to update that section of the contract."
In a new email sent from Mohip to Ellis on Wednesday, Mohip said, "I can only assume you refused to change the [collective bargaining agreement] to increase the pay of our teachers because the current leadership of YEA does not want our strategic plan to succeed.
"I have tried to work with you, but you've chosen not to collaborate, so, after consulting with the chairperson of the academic distress commission, I have decided to reopen the ... Successor Collective Bargaining Agreement for the purpose of negotiating its terms."
He listed May 11, 12, 16 and 17 as days he is available to bargain.
"Please let me know who your bargaining representative will be, and I look forward to bargaining solely for the purpose of raising the salary of our teachers," the email says.
Mohip said the situation isn't how he imagined.
"This isn't how I wanted – nor how I expected – this to go," he said. "I didn't expect to have to force a raise on anyone."
More like this from vindy.com