Bresha's attorney says tentative plea agreement would require only 9 months of treatment
Attorney for Bresha Meadows speaks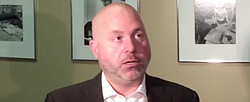 Video
Ian Friedman speaks on the Bresha Meadows case.
By Ed Runyan
WARREN
Ian Friedman, attorney for Bresha Meadows in her aggravated-murder case, said Monday he and prosecutors have reached a tentative plea agreement that would allow the 15-year-old to leave juvenile detention May 22 to begin a nine-month treatment program to resolve her case.
Stanley Elkins, meanwhile, the assistant county prosecutor for juvenile cases, would not discuss specifics of the agreement but said he thinks he and Friedman are close to finalizing a plea agreement.
VIDEO: Attorney speaks on tentative plea deal
Bresha has been in juvenile detention since shortly after police say she shot her father, Jonathan Meadows Sr., 41, in the head at their home on Hunter Street Northwest on July 28.
The case had been scheduled for a weeklong trial starting May 22, but after an hourlong discussion Monday involving Elkins and Friedman in the chambers of juvenile court Judge Pamela Rintala, it's possible the case will conclude May 22.
Friedman and Elkins said there are issues to be worked out, but they could be finalized May 22, when the parties reconvene for a pretrial hearing.
Friedman said if the case is resolved with treatment, Bresha would be eligible for case records to be sealed and expunged "so that Bresha would go into her adult life without any adverse mark on her record whatsoever."
Bresha, who was 14 when the shooting took place, will remain at the juvenile justice center leading up to May 22, but Judge Rintala indicated that she was open to having Bresha taken from juvenile detention by jail staff for mental-health treatment, Friedman said.
"Really a lot of good happened today," Friedman told reporters in the hallway of the juvenile/family court. "We now know she's not going to just sit idle like she has for the last nine months."
Elkins was not available to talk to the media for about an hour after the hearing while he handled other matters and spoke with two members of Jonathan Meadows Sr.'s family.
One of the two family members was a brother of Jonathan Meadows Sr., and he left the courthouse quickly without talking to reporters afterward.
But Jonathan Meadows Sr.'s sister, Lena Cooper of Nashville, when told by a reporter by telephone what Friedman said about the tentative plea agreement, said she was stunned.
"This is unbelievable," she said. "We said no plea agreement because we know that [Bresha] is guilty. She is totally out of control." Cooper attended last Wednesday's hearing with her husband, but remained in Nashville for this hearing.
Wednesday's hearing included testimony on a motion by Friedman asking that Bresha be allowed to leave the detention center to live with her aunt in Cleveland and receive mental-health treatment pending the May 22 trial.
Friedman and members of Bresha's family have told reporters that Jonathan Meadows Sr. was abusive toward members of his family and that this drove Bresha's actions.
But Elkins reiterated Wednesday that there was "no evidence" of abusiveness on the part of Jonathan Meadows Sr.
Court records indicate Jonathan Meadows Sr. had no criminal record, but Bresha's mother, Brandi Meadows, alleged in 2011 documents filed in family court that Jonathan Meadows Sr. was extremely controlling and abusive.
The case has received a great deal of attention on social media, prompting rallies in various places across the country. News media in several foreign countries have indicated plans to cover the trial.
Friedman addressed that in his remarks Monday, saying the social media influence "is helping to ensure that this case stands for so much more [than one child] ... because there are many more Bresha Meadows out there who may not get the sort of attention that this case has garnered."
If there is not a resolution May 22, a trial will be rescheduled for Oct. 16, Elkins said.
More like this from vindy.com