Published: Sun, May 7, 2017 @ 12:09 a.m.
BOARDMAN
The Cicerone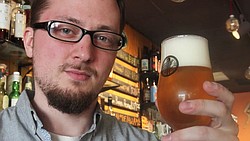 Video
A Cicerone is an expert in all things beer. James Sforza of Girard is one of two Cicerones in the state of Ohio.
After a nine-hour exam, James Sforza of Girard handed in 25 pages of written work to a panel of test administrators, the culmination of six months of study and years of experience.
Just to take this test, he had to be selected from a lottery, pay nearly $800 and drive to a testing facility in Chicago.
For Sforza, that is the cost of being a certified expert on beer.
Last month, Sforza became an advanced cicerone – the beer world's equivalent of a sommelier – one of fewer than 50 nationwide.
Much like their counterparts in the wine world, cicerones deal in expertise, acting as a concierge through the world of craft beer.
Sforza decided to work toward becoming a cicerone in 2013, a year after he began working at Vintage Estate Wine and Beer in Boardman. While working at the bar, Sforza became enamored with craft beer and the culture surrounding the then-blossoming industry in Youngstown.
Wanting to grow his knowledge, Sforza discovered the cicerone program – operated out of Chicago by Ray Daniels, a veteran brewer – and began studying to become a certified beer server, the program's entry-level tier.
"I actually started studying for the level two exam right from the start, so passing the certified beer server test was relatively easy," Sforza said.
The day Sforza passed the certified beer server exam, he signed up for the second level of the program, the certified cicerone, which required significantly more study. He passed in 2014.
His next goal – the advanced cicerone certification – demanded in-depth knowledge of topics with which he was less familiar: food pairing, draft systems and precisely identifying impurities in beer by taste and smell.
For those attempting to become certified cicerones, the program provides an exhaustive syllabus – the advanced version is 23 pages long and an accompanying resource sheet of suggested reading includes technical manuals and books – but much of the practical preparation for the exam has to be done in front of a beer or behind a bar.
At the advanced level, the program is geared toward workers in the beer industry, such as bartenders, sales representatives, brand managers and brewers. Sforza, who was promoted to manager at Vintage Estate, used his working hours and his downtime as occasions to study.
"Any time I drank a beer, I was very conscious of the experience, I was always actively paying attention and analyzing my drinks," Sforza said. "I also intentionally drank beer that had problems with it to train myself to pick out impurities."
Though he admits that he was nervous going into the exam – which he described as "extremely difficult" – Sforza was optimistic about the results and told himself he'd be proud of his work regardless of the outcome. Despite the positive attitude, he was elated when the test results came back awarding him the rank of "advanced cicerone."
Now, Sforza continues his work at the bar – he leads beer and food pairing programs, speaks at the bar's "beer school" lectures and helps create tasting events – but with the added status of being a certified expert.
Jeff McDevitt, the owner of Vintage Estate, said having one of his managers become one of only two advanced cicerones in the state only adds to the bar's reputation.
"It's a big deal," McDevitt said. "Having someone with that kind of expertise I think really takes the business to another level."
Sforza has no plans to leave his current job, but is interested in eventually exploring other avenues of the beer industry, such as working as a brewery representative or acting as a full-time event planner for a bar. Eventually, he hopes to continue in the cicerone program and attain the rank of Master Cicerone. When he isn't at the bar, he's often working with other local brewers and beer enthusiasts on their own projects.
Despite the new title, Sforza's day-to-day routine hasn't changed. He still serves beer and plans events and answers beer questions. Despite the breadth and depth of his knowledge, he says there's one very straightforward question he gets asked more than any other; "What's your favorite style of beer?"
"If I had to pick, I'd say German Hefeweizen or American pale ales," Sforza said. "But the truth is I enjoy every style of beer."