Fitch boys track team feeling optimistic
Optimist Track Meet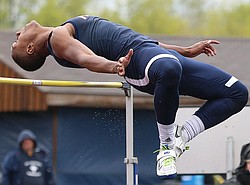 Gallery
Fitch boys get better handle on their status
By JOHN HARRIS
AUSTINTOWN
Like the forecaster who correctly predicted unseasonably cold weather, gray skies and rain this weekend, Austintown Fitch track coach Seth Steiner used Saturday's Optimist Invitational as a barometer for upcoming district and regional competition.
Photo Gallery: Optimist Track Meet
Fitch's boys handily won the event on their home track with an impressive 100 points, outdistancing top-five finishers Wadsworth (80), East Canton (551/2), Stow (45) and Alliance (38). What's more, the Falcons gave a preview of what to expect in the coming weeks.
"Performance-wise, this was definitely one of our better days," Steiner said. "Leading up to this weekend, I was definitely uneasy where we were due to inconsistency. When you get teams like Bedford and Cleveland Heights to come in, you can kind of see where you stack up against them and what you need to do to be ready when the time comes at regionals to perform well. Today, finally, we put things together a little bit and I'm feeling better where we are at this point."
Steiner praised junior Jakari Lumsden, who won the high jump over sophomore teammate Deondre McKeever, who finished in a second-place tie with Alliance's Stone Jackson, who was named the Boys Field MVP. Lumsden and McKeever totaled 17 points in the high jump. Lumsden helped add another 10 points when he anchored Fitch's first-place finish over second-place Bedford in the boys 4x100 relay. Fitch's boys also took second in the 4x800 relay and fifth in the 4x200 relay.
"I started doing the high jump last year and I basically fell in love with it," Lumsden said. "Going into regionals, I'm really focusing on that. It's my best chance to go to state."
Fitch seniors Joe Pfeffer and Brent Fairbanks combined for 15 points with a first- and fourth-place finish in the discus.
"We have two good high jumpers. We have two senior throwers leading the way for us. We have a couple good upperclass hurdlers. Hopefully, we can stay consistent," Steiner said.
Consistency was a common theme Saturday. Canfield won the girls 4x800 relay ahead of second-place Maplewood, following a season-long gameplan featuring the quartet of seniors Anita Mancini and Raquel Markulin, sophomore Ashey Ventimiglia and freshman Camryn Kohout each playing their role to perfection.
Canfield finished fourth in the girls meet with 38 points. Twinsburg led the way with 98 points.
"Our [relay] team's a great team because we can plug them into any spot," Canfield girls track coach Nick Wagner said. "Any of those four girls can run in any of those four spots and still come out with a good time."
Badger freshman Miranda Stanhope put on an impressive show, winning the girls 3200 and placing fifth in the 1600.
"I was very satisfied with my races today, especially with the conditions," Stanhope said. "It was cold and rainy. You can get stiff between races, but I was able to keep loose. There were some bigger schools here, and good competition will give me more confidence for our conference meet."
Cardinal Mooney junior Autumn Desantis finished second in the high jump behind Manchester's Alyssa Matheny.
Senior Dakari Carter, a three-time state champion in the boys Division II 100 meters, anchored Streetsboro's first-place finish in the 4x200 relay.
East Palestine's Alexis Cunningham was named the Girls Running MVP. Marietta's Travis Moore was named the Boys Running MVP and overall MVP. Garfield's Lauren Jones received the Girls Field MVP and overall MVP honors.
More like this from vindy.com