TOP ARAB CITIZEN: Dr. Rashid Abdu achieves national acclaim
CANFIELD
Dr. Abdu tribute video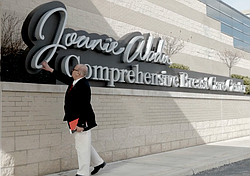 Video
Dr. Rashid A. Abdu was recently honored as the 2017 Arab American of the Year. Check out his story below. (Video courtesy of Access Community.)
Retired Canfield general surgeon Dr. Rashid Abdu, who began life 84 years ago in Aireem, South Yemen, at the time a primitive village without electricity, motor vehicles, running water or a physician, is a 2017 Arab American of the Year in the United States.
He received the award during the recent 46th annual dinner of the Arab Community Center for Economic and Social Services in Detroit.
One of Dr. Abdu's four children, daughter Leila Heath of St. Charles, Ill., introduced her father before a sit-down dinner for about 2,000.
He has three other children – Rodman Abdu of Golden, Colo.; Elaine Kosco of Bay Village, Ohio; and Roseann Abdu of Frederick, Md. – and three grandchildren.
"I was touched by my daughter's comments and honored to be selected for the award from among the 3.7 million Arab Americans," Dr. Abdu said during an interview at his Canfield home.
In announcing Dr. Abdu as an Arab American of the Year recipient, the Arab Community Center for Economic and Social Services said he "embodies the spirit of leadership, ingenuity and compassion that the award has come to represent, and exemplifies the perseverance and humbleness at the heart of the immigrant contribution to the American success story."
It was through Dr. Abdu's ingenuity and perseverance, and the help of several people, including Harlan and Mary Clark of Brookfield, that he made his way from South Yemen to the U.S. to establish a 50-year career as a surgeon, mostly at St. Elizabeth Health Center, now Mercy Health St. Elizabeth Youngstown Hospital, and St. Joseph Hospital in Warren.
Near the end of his career as a surgeon, he was the driving force behind the state-of-the art Joanie Abdu Comprehensive Breast Care Center affiliated with Mercy Health-Youngstown.
The Joanie Abdu Center is named after his late wife who died of an aggressive form of breast cancer June 2, 1994.
The couple met on what was a surprise blind date for Dr. Abdu.
He thought he was to have dinner at a restaurant with a male friend who, unbeknown to Dr. Abdu, had invited two nurses to join them, one of whom was Joanie, a registered nurse at St. Elizabeth. They were married in 1983.
"She was one of the finest human beings I ever met. She lived her religion. Joanie was promoted to head nurse, but she gave up the position because she wanted to take care of patients," he said.
When Joanie was ill, Dr. Abdu visited a comprehensive breast-care center in Long Beach, Calif. Upon returning, he promised her there would be a comprehensive breast-care center in Youngstown.
"It took me 18 damn years," he said.
The $8 million Joanie Abdu Comprehensive Breast Care Center, dedicated to reducing the breast-cancer rate in Mahoning County, which at the time was the highest in Ohio, opened its doors in November 2011 to serve women of all income levels.
Twice retired as a surgeon – once in 1999, which Dr. Abdu said he "flunked," and again in December 2016, the honoree is emeritus director of surgical education at St. Elizabeth and professor emeritus of surgery at Northeast Ohio Medical University in Rootstown.
His interest in medicine began when as a young boy he was "elected" to nurse a cousin who had contracted yellow fever. The doctor said to keep him clean and dry, and after a month, his cousin recovered.
"I looked up to that doctor. I said I want to be like him," Dr. Abdu said.
His journey to achieve that dream began at age 9 when, despite opposition from his father, who believed education was a waste of time, he left his village and got a job that paid $1.50 per month.
"I worked 18 hours a day, seven days a week," he said.
His uncle, a chauffeur at an American military base in Yemen, got him a job working for the American Red Cross – a move that opened the door for Dr. Abdu's getting to the United States, graduating from high school, and earning an undergraduate degree from Lafayette College, Pa., and a medical degree from George Washington University School of Medicine and Health.
He was nurtured along his journey by two American families – U.S. Consul Harlan Clark and his wife, Mary, of Brookfield, and Dr. Alfred M. Palmer and his wife, Betty, whom he described as "benefactors, foster parents and role models" in the dedication to the book he wrote about his life, "Journey of a Yemeni Boy."
"They [the Clarks and Palmers] extended their hands, pulled me out of the dark ages and showed me the way. Without their help, their love and their foresight, my dreams would never have been fulfilled," he wrote.
Under the Clarks' guidance, the young Abdu attended a Catholic school four hours a day and worked at the U.S. Consulate in Yemen. When the Clarks were transferred to Saudi Arabia and then Beirut, he followed them any way he could.
He went to a prep school in Beirut, but at 14 had only a first-grade education.
"I took a placement examination and was placed in the eighth grade," he said.
When the Clarks were sent back to the U.S., Dr. Abdu took a cargo boat to Egypt, a train through war-torn Palestine and managed a ride on a cargo boat to the U.S., where the Clarks picked him up in New York City.
"Harlan and Mary were wonderful people. I lived with them for three years taking care of their children," said Dr. Abdu.
He said one of the things that most impressed him about the U.S. was going from state to state without having to pass through guard stations.
There were signs saying "Welcome to Pennsylvania" or "Welcome to Ohio. We take so much for granted," Dr. Abdu said.
He got other help along the way, once when he was facing deportation because he had no passport, and then when he needed a scholarship to attend George Washington Medical School, in which even the king of Yemen got involved.
The king wrote a note to the Yemen consulate in Washington, D.C., saying: "Do what has to be done as it should be done."
"And it was done," Dr. Abdu said, with still a little awe in his voice.
After graduation from medical school, the Clarks of Brookfield once again were pivotal in the direction of Dr. Abdu's life.
While visiting the Clarks, another guest, a physician from Sharon, Pa., suggested Dr. Abdu check out St. Elizabeth in Youngstown, a place of which he had never heard.
"I was so impressed with St. Elizabeth, especially with the nuns and the way they take care of the poor. I don't regret coming here one day. Their mission became my mission," Dr. Abdu said.
Neither did he forget his homeland.
He returned to Yemen to successfully operate on his mother when other surgeons there thought it was too dangerous.
Her recovery resulted in a complete turnaround in his father's attitude toward education.
"My father said: Knowledge is light and ignorance is darkness," Dr. Abdu said.
"Suddenly everybody wanted their sons to be like Rashid. Now, there are more than 20 physicians from Aideen, including four doctors and three engineers in his own family. The cycle was broken," he said.
Also, after Dr. Abdu retired the first time in 1999, he went back to Yemen and taught and helped build a hospital.
There is an Arab saying that Dr. Abdu said is one to live by: "If a day passes without extending a helping hand and learning something new, that day will not be considered a part of your life."
An amateur photographer and painter, Dr. Abdu mentors and tutors children at Harding Elementary School in Youngstown.
More like this from vindy.com