Celebrants savor the flavors of Cinco de Mayo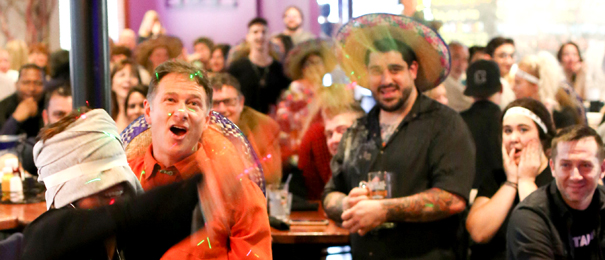 ---
By GRAIG GRAZIOSI
ggraziosi@vindy.com
BOARDMAN
Cinco de Mayo celebrates the Mexican army's victory over French invaders at the Battle of Puebla in 1862 '" unless you're American, in which case it celebrates an evening between St. Patrick's Day and the Fourth of July on which public intoxication is socially acceptable.
In the grand American tradition of taking something from somewhere else and mutating it into something profitable, Cinco de Mayo has become one of the U.S.'s premiere drinking holidays, often sponsored by Mexican beer companies like Dos Equis or tequila distillers like Patron.
Much like St. Patrick's Day '" the first St. Patrick's Day parade was in New York, not Ireland, and was initially observed in Boston primarily by protestants, not Catholics '" Cinco de Mayo in the United States has only tenuous ties to its historical roots.
But not all celebration of obscure cultural holidays need be cynical; two local Cinco de Mayo celebrations used the holiday for raising awareness and for culinary experimentation, as well as a bit of fun along the way.
The Youngstown State University Latino Student Organization, along with the Youngstown-based Hispanic American Civic and Cultural Organization, called OCCHA, hosted a fundraiser Thursday night, the eve of Cinco de Mayo, at Los Gallos in Boardman.
Bruno Serrano, president of the YSU Latino Student Organization, said Los Gallos offered the venue to the group for free and provided a taco bar for a $5 cover charge. The Labra Brothers '" a local band playing Latin, rock and blues '" performed during the event. The money raised by the outing will be split evenly between OCCHA and Community Legal Aid, a nonprofit law firm serving Northeast Ohio.
Serrano '" who was naturalized in March and voted in his first election Tuesday '" is Peruvian by birth, but said Cinco de Mayo can be a useful holiday for the entire Latino community.
'We're trying to raise awareness for the local Latino community, so any event that gives us a chance to interact with the public and let people know who we are is good for us,' Serrano said.
A few miles east, Phil and Sandy Reda, owners of Magic Tree Pub and Eatery, spent the actual holiday, Friday, sporting sombreros and chatting with customers during their event-packed celebration. The Labra Brothers also played there.
'Our mantra here is '˜we eat, we drink, we celebrate,'' Reda said. 'We spend hours in meetings every week to come up with new, fun ways to keep our customers entertained while they're here with us.'

Alongside more identifiable events with cultural ties to Mexico '" like a variation on the Mexican 'hat dance' and the battering of a Dos
Equis-themed pinata '" the staff at Magic Tree used the holiday as motivation to get creative with their drink menu.
P.J. Smerechansky, Magic Tree bar manager, said he never wanted the drink menu to be rigid or predictable, so he put a twist on a pair of classic Latin American beverages for the celebration.
One recipe began with traditional Mexican horchata '" made from rice and cinnamon '" and gained some heft when Smerechansky added coffee-flavored tequila and whipped vodka.
He also prepared 'build-your-own Margaritas,' letting patrons create a drink from a variety of tequilas and glass rims.
For Smerechansky, holidays like Cinco de Mayo are opportunities to try something new and hopefully win the loyalty of more customers.
'Everyone always says there's nothing to do in Youngstown, but one of our main goals is to ensure that no matter what, there's always something fun going on here,' Smerechansky said. 'We want to be that constant source of entertainment.'