Trivia Night challenges Austintown community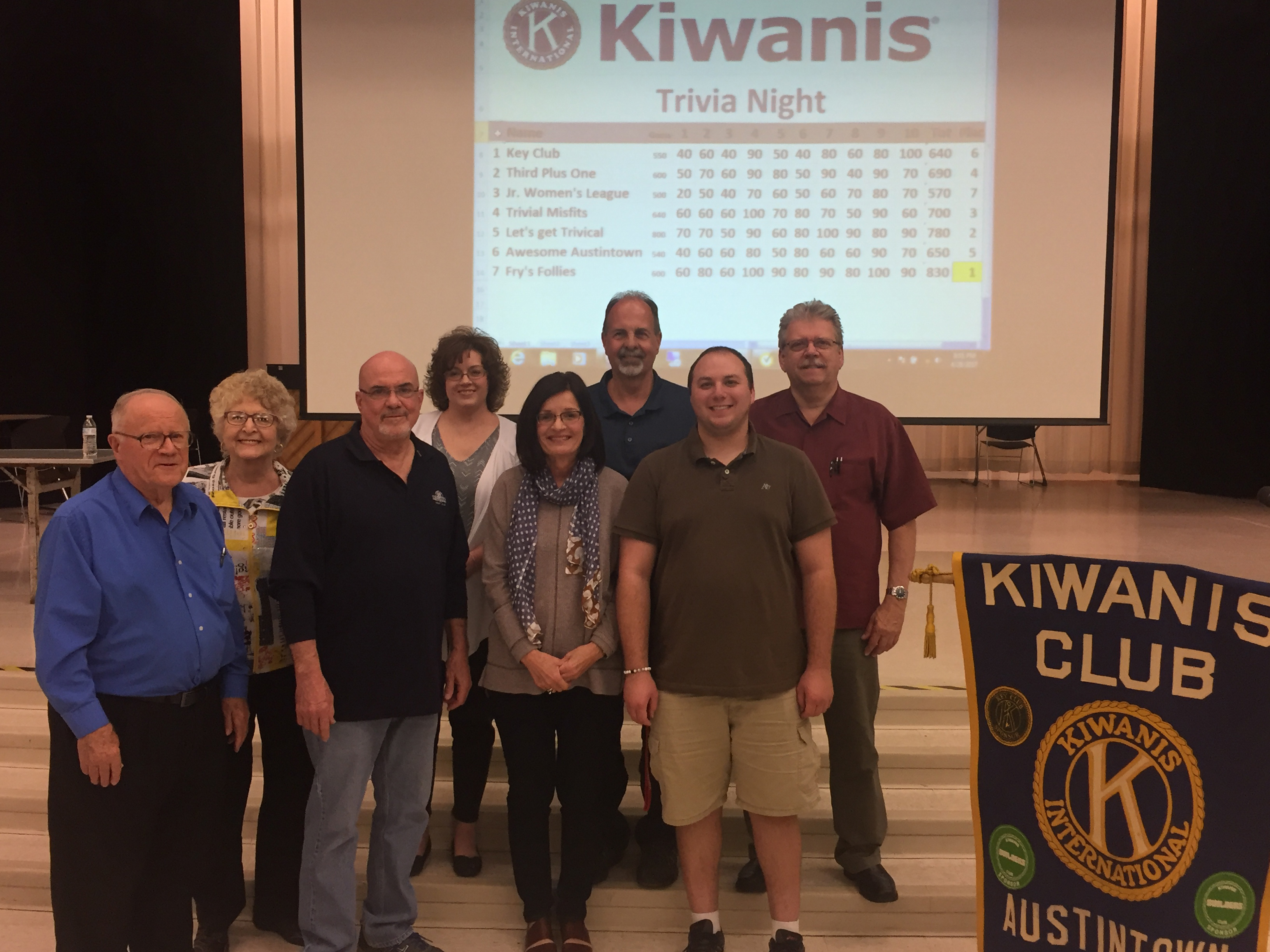 ---
By ALEXIS BARTOLOMUCCI
Austintown Kiwanis tested community members' knowledge during the first annual Trivia Night on April 28.
Barb Kliner, of Austintown Kiwanis, got the idea from the Steubenville Kiwanis Club. Austintown Kiwanis decided to host their own Trivia Night as a way to bring a fun event to Austintown. There were seven teams who registered consisting of 10 people each. Members of Austintown Kiwanis and Austintown Fitch High School Key Club volunteered their time to help with the event.
"We have different categories that we gave the teams ahead of time so they knew the categories the were going to be asked about," said Mariel Sallee, Austintown Kiwanis President.
The categories consisted of: America the Beautiful, The Wide World of Sports, Walt's Legacy, The Red Carpet, Woodstock Days, Someone's in the Kitchen, Looking Back at Austintown, Plains, Trains and Automobiles, Calling all Geeks and Anything Goes.
There were teams from Austintown City School District, Fitch Key Club students and advisors, businesses whose employees formed a team and several other community members. Each round consisted of 10 questions and when the final question was read, the teams had two minutes to answer. When the teams finished filling out the answer sheet, volunteers would collect the paper and turn them in to the judges.
The winning team was Fry's Follies who went home with $200 and the second place team was Let's Get Trivical going home with $100.
"One of the things we are trying to do with the Key Club at Fitch is we want to send some students to the Key Leader Conference in November," said Sallee.
The Key Leader Conference is a big conference that Kiwanis hosts for Key Club. The Trivia Night fundraiser will help raise the money needed to help send some Key Club students to the conference. Kiwanis wants their identity to be that they are always doing something to empower the students. Austintown Kiwanis is hoping that the success of the first Trivia Night will give them the opportunity to continue hosting the event and making it bigger and better each year.
More like this from vindy.com