Wallace, Ervin win top honors at Trumbull County meet
Trumbull Track Meet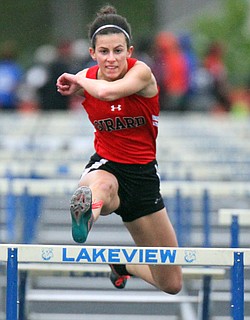 Gallery
Wallace, Ervin win top honors at Trumbull
By Tom Williams
cortland
Mathews distance runner Kenny Wallace said he was a little surprised when he heard that Maplewood's Jake Hall was announced as the Running MVP after Thursday's Trumbull County Track Meet.
"I felt a little sorrow when they didn't call my name," the Mustangs senior said. "Massive respect to him but I was like, 'Shoot, I wanted to win that.'
"Then they [announced] Overall [MVP] and I was pretty happy."
Photo Gallery: Trumbull Track Meet
Wallace won the 1600 (4:26.05) and finished second to Howland's Vincent Mauri in the 3200 and second to Hall in the 800 at Lakeview High School.
When it was suggested that Wallace could offer to trade his Overall MVP trophy to Hall, Wallace was quick with his reply.
"I'm all right with Overall, sir," Wallace said. "I wasn't expecting it."
LaBrae speedster Dynesty Ervin was the girls Overall MVP after winning the 100, 200 and 400 races.
The race that pleased the Vikings sophomore the most was the 400, adding that she hoped she would win "at least one [race].
"I didn't know I had that 400 in me today," Ervin said of her time of 59.11. "Breaking [to] 59, I didn't know if I could do it. I've been working really hard."
Ervin said Thursday's weather (temperature in the 50s, very overcast skies with a few raindrops, steady breeze) didn't help.
"The wind kind of slowed me down," she said, "but I knew I couldn't [use] the weather [as an excuse] so I had to push even harder."
Her fine day didn't sink in until she edged Niles' Kyndia Matlock in the 200 to complete her hat trick.
"I didn't know after that 400 if I could [win] the 200," Ervin said.
Howland's boys and girls team enjoyed more than their share of winning. The Tigers' boys team dominated, winning the meet with 105 points. Maplewood was second with 77 and Lakeview was third with 67.
Jacob Williams was one of the Tigers' double winners, capturing the 110 hurdles (15.22) and 300 hurdles (40.82) races.
Having the right frame of mind was a key to his success.
"Gotta get yourself in the right mindset before you race, kinda not have a cloud over your head — a clear sky and a heart to win," Williams said.
Clear sky on Thursday?
"Of course, [the weather] is always a thought in your head, that it might be bad," the Tigers' senior said with a smile. "You have to have that mentality to just overcome it."
The Tigers romped even though one of their leaders — George Beatty-Marsh — was fighting the flu. He finished third in the 400 behind Mineral Ridge's Jerred Miller and McDonald's Hayden Sloan.
"Orange juice and a blanket and my [sleeping] bag," Beatty-Marsh said of what he was looking forward to while waiting for the team trophy presentation. "I was trying to be a leader today. Even though my body wasn't with it, my mind was still with it."
Going into the final race, the McDonald girls team led Howland by half-a-point. But the Blue Devils did not qualify for the 4x400 so the Tigers' fifth-place finish lifted them to an 84.5 to 81 victory. Lakeview was third with 65.5 points.
McDonald distance runner Malina Mitchell won the 1600 (5:13.73) and 800 (2:18.97).
"The wind a little bit can affect times," the Blue Devils junior said. "Other than that, I would rather have a nice, cool day like today than 90 degrees and hot like it's been the last couple of years at County."
Girard's Emily Marsico was named the Running MVP after winning the 100 hurdles (15.35) and 300 hurdles (46) and finishing third in the 100.
Newton Falls provided the Field MVPs — Kayla Barreca and Ben Simpson. Both won the discus and were second in the shot put.
More like this from vindy.com