Tito Brown ousts McNally in Youngstown primary
By DAVID SKOLNICK
skolnick@vindy.com
YOUNGSTOWN
2017 Democratic Primary election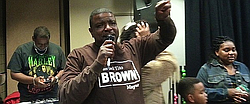 Video Set
The Democratic primary rematch for mayor between incumbent John A. McNally and Jamael Tito Brown wasn't as close this time and the outcome was different.
On Tuesday, Brown was the winner by 461 votes – 4,323 for Brown to 3,862 for McNally, according to final but unofficial results.
McNally won the 2013 Democratic primary for mayor by only 142 votes on his way to a general-election victory that November.
McNally and Brown differed on whether the mayor's criminal convictions last year played a factor in Tuesday's Democratic primary.
"I think voters want honesty and integrity," Brown said. "That was a big factor."
Also, "people looked at my last race and said, 'That young man can win.'" Brown said. "I'm very excited. I was up and then I was down and then I was up."
When early votes were counted, Brown, a former council president and ex-3rd Ward councilman, was ahead by only 204 votes.
Then the votes in the 4th, 5th and 7th Wards, which are primarily white in population, were counted and McNally, who is white, surged to a lead of nearly 1,000. But when the ballots in the 1st, 2nd, 3rd and 6th Wards, which are primarily black in population, the final results had Brown, who is black, with a 461-vote overall victory.
McNally insisted his criminal convictions played no factor in his defeat.
"Over the past three years, I've gotten two calls at the office on" the convictions, adding: "I don't think it had anything to do with this election."
McNally pleaded guilty in February 2016 to four misdemeanors: two counts of falsification, and one count each of unlawful use of a telecommunications device and attempted disclosure of confidential information.
McNally was given one year's probation in March 2016 and allowed to remain in office.
McNally was accused of being part of a criminal enterprise that conspired illegally to stop or impede the relocation of the county's Job and Family Services Department from a building owned by a subsidiary of the Cafaro Co. to Oakhill Renaissance Place. McNally was a county commissioner when the county, over his objections, purchased Oakhill in 2007.
The convictions relate to McNally illegally faxing the county's confidential offer July 13, 2006, to buy Oakhill to a Cleveland law firm that represented Anthony Cafaro Sr., former head of his family-owned Cafaro Co. shopping-center business.
When asked if he had anything to say to Brown, McNally said no, declining to even congratulate the Democratic primary winner.
McNally said he will continue to work hard as mayor through the end of his term, which expires Dec. 31.
McNally, whose law license is on inactive status because of the Oakhill convictions, said he doesn't know what he'll do for a living next year and was "not really sure if I'll get back into politics."
McNally said one of his "biggest frustrations is the work I've done needs to be continued," and he hopes whoever succeeds him will do so.
Three candidates filed by Monday's deadline to run as independents in the Nov. 7 general election.
They are Janet Tarpley, a former 6th Ward councilwoman; Sean McKinney, the city's former buildings and grounds commissioner; and Cecil Monroe, who has run for city elected office a number of times before without any success.
When asked about his general-election opponents, Brown said Tuesday: "I'm going to live in this victory now. You play one opponent at a time. We'll enjoy this and then figure out what we're going to do with our next opponents."
More like this from vindy.com