Storm damage around the Valley
Storm Damage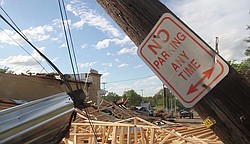 Video
The Mahoning Valley was hit again today by damaging storms. An East-Side car lot sustained major damage.
Staff report
YOUNGSTOWN
From blinding rain in Boardman to wires down in the city, first-responders were busy Monday afternoon after the latest band of storms to moved through the Valley.
John Gresko, director of environmental services at Park Vista Retirement Community on Fifth Avenue, said the storm carried a quarter of the roof off the building.
"The strong winds came all at once; there was no major warning that it was coming," he said. "The rain was just blowing sideways coming in here."
Gresko said water came through the roof and leaked into residences' bathrooms. A few people were evacuated due to minimal water damage, but soon returned. Gresko said the damage thankfully didn't displace any residences or put them in danger.
Into the night, with the help of Murphy Contracting Co., Park Vista sealed the openings, placed a temporary roof and began removing the debris. Gresko said the building should be back to normal within two weeks, weather permitting.
Local safety-service forces and road departments also were dealing with the aftermath that included roads littered with limbs, trees and wires and buildings heavily damaged. There were no injuries reported despite the ferocity of the weather.
A car lot at Oak and Fruit streets on the East Side was particularly hard hit, as it lost a large portion of its roof and debris was splayed across Fruit Street, The area was also without power and police had to direct traffic at the busy intersection just off the Madison Avenue Expressway.
Mark Pisciuneri was at the Royal Oaks bar across the street when the storm hit.
"It sounded like a train was coming down the street," Pisciuneri said. "Then we came outside and all of a sudden we saw the roof of the Six Brothers car lot is just completely blown off."
On the West Side, power was out to the plaza housing the Mill Creek Deli on South Schenley Avenue. A power line was smoking, smoldering in the trees and sparking on the ground.
Bob Ramahli, owner of the deli, said he thought all the windows would be broken.
"It was like a couple of explosions," Ramahli said.
Police and fire crews in Youngstown were answering call after call for weather related damage once the storm let up. Police Chief Robin Lees said the department's Community Police Unit augmented regular beat cars to help out answering weather calls.
"It was like we had seven extra cars on the road," Lees said.
Fire Chief John O'Neill Jr. said the fire department called in five extra personnel to help them answer the nearly 50 calls about downed wires.
The soggy weather is not over.
Temperatures through next Monday will be unseasonably cool with highs in the lower to upper 50s, said Kirk Lombardy, a National Weather Service meteorologist.
The high today in the Mahoning Valley is expected to be 53 degrees with a low around 42 at night, with some showers, he said.
"It's not going to be pretty for the next week or so," Lombardy said.
It's also expected to rain every day through Sunday, he said.
According to FirstEnergy's website, 10,880 area customers were still without power in the Valley late Monday night: 6,019 in Mahoning County; 4,203 in Trumbull County; and 658 in Columbiana County. Some people will be without power until Wednesday, FirstEnergy said.
Charles Shasho, director of public works, said the street department was working with First Energy to reopen roads closed by fallen trees or power lines as soon as possible.
He warned travelers to exercise caution when approaching intersections, as power outages had affected traffic signals.
In Mahoning County, closed for several hours due to down wires and storm damage were state Route 534 between U.S. Route 62 and state Route 165 in Goshen Township; and state Route 626 between state Routes 164 and 7, the Ohio Department of Transportation announced.
In Struthers, a tree slammed into a home at Omar and Argonne streets about 3 p.m. No one was injured.
Struthers Firefighter Brian Stellato said the volume of citywide calls to first-responders had been manageable.
Struthers emergency lines, however, went down late Monday afternoon due to power outages, and it was they were still down at press time Monday night. Until the issue can be resolved, Struthers residents should contact Mahoning County dispatch at 330-740-2370 for emergencies.
Among many other reports:
A tree blocking Salem-Warren Road in Goshen Township.
Trees damaged on Hartford Avenue in the city.
Trees and wires down on Midlothian Boulevard and Hillman Street.
Firefighters were monitoring a downed power line at 1260 S. Schenley Ave. about 2:30 p.m. The 2,400-volt line occasionally was erupting into flames and buzzing loudly. The plaza there was evacuated and the road was closed between Bears Den and Decamp roads.
In Boardman, the township responded to calls about downed trees and power lines, and businesses with damaged roofs.
"We've had trees down all over the township," said township Administrator Jason Loree. "It's been a messy two days."
On Sunday, an area of the township was hit by what the NWS called a "wet microburst."
A sudden storm hit, with heavy rains and winds up to 80 mph hitting the area of U.S. Route 224, Market Street, Meadowbrook Avenue and Southern Boulevard.
The NWS had representatives in Boardman on Monday. It doesn't appear as though it was a tornado, said Jim Kosarik, a meteorologist with the NWS in Cleveland.
Monday's storm was more widespread, with calls coming in from all over the township.
Loree encouraged residents to call the township to report issues caused by the storms. The township's main number is 330-726-4177.
"I encourage people to contact the road department if they see catch basins that are flooded. They can call us about any trees down blocking the roadways or on power lines," Loree said.
Fire Chief Mark Pitzer said his department received call after call on Monday, from a tree falling on a house on Cherrywood Drive to a roof coming off a business on Karago Avenue.
In Struthers, a tree slammed into a home at Omar and Argonne streets at 3 p.m. Monday. No one was injured.
The Struthers fire department relied on backup generators after losing power.
About 30 percent of Austintown was without power Monday afternoon, according to First Energy. Township Fire Chief Andy Frost said there were several power lines down and at least four or five trees that had fallen on homes.
Meanwhile in Trumbull County, a tree fell on a Morris Avenue home in Girard about 2:15 p.m. Monday. No one was injured.
Girard Fire Capt. Sal Ponzio said the department had responded to about a dozen weather-related calls by Monday afternoon.
A tree fell on a Morris Avenue home, though one was injured and that tree did not affect power lines.
Girard Mayor James Melfi said the extent of the storm's damage to city infrastructure, including roads and sewers, remains to be seen.
More like this from vindy.com