Talks break down on purchase of former Packard Electric site, but Auto Parkit buys two others
Park It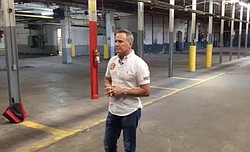 Video
Christopher Alan explains the building and land purchases he has made in Warren and the purchase of the former Packard electric facilities that he was not able to finalize. He discussed the issues in the 100,000 square-foot building on Dana Street he bought from General Electric 10 days ago.
By Ed Runyan
WARREN
Negotiations to allow Auto Parkit owner Christopher Alan to buy the former Packard Electric buildings on Dana Street have broken down, but Alan moved a little bit down the road.
Alan, a Warren native, announced Monday he has purchased the vacant land formerly occupied by the General Electric Ohio Lamp Plant on Dana Street and a former GE building across the street.
From there, he will begin to move his company to Warren as he promised 18 months ago, Alan said during a news conference.
"The promises we made 18 months ago, we are holding true to those promises and we are bringing Auto Parkit to Warren, Ohio," Alan said.
Alan, whose father worked at Packard Electric, said he prays at night he'll have the strength "to roll the stones forward, but the stones aren't round, so they kind of take you down different roads."
Alan said he invested about $1.5 million in trying to secure the Packard Electric site, but the 100,000-square-foot GE building is "a good starting place to go from" while he continues to search for a site big enough to hold all of Auto Parkit.
The two GE properties are just west on Dana Street from the former Packard Electric manufacturing building and office building Alan had hoped to acquire.
Alan said he hopes that the "perfect property" he's looking for will be in Warren, but if not, at least in "the surrounding area."
The former GE Ohio Lamp site already has had its environmental problems cleaned up, and it has access to a railroad line that is essential to Auto Parkit's ability to reduce shipping costs, Alan said.
The former GE Ohio Lamp plant site will play an important role in shipping Auto Parkit's automated parking systems to customers, Alan said.
Alan said his father worked for Packard Electric, and his mom started out making about $1 per hour working for the phone company when he was a kid, so he "grew up on the lower middle-class side of things."
The money he has spent so far is a lot, but because of the opportunities Auto Parkit has in front of it, the $1.5 million is a "drop in the bucket," he said.
American companies with eight, 10 or 12 locations have expressed an interest in having Auto Parkit build, deliver and maintain automated parking systems for them, Alan said. Those and opportunities internationally could keep Auto Parkit in business for 20 years, Alan said.
Alan had hoped to have manufacturing facilities up and running in Warren by now, but that work will continue at a handful of sites in places such as northern California, Detroit and Swanton, Ohio, while he continues to search for a permanent home.
Auto Parkit already is working with area companies such as Bloom Industries, Star Fabrication, Northwest Hydraulics, TNA Fabrication and Flex Strut. Those companies are making additional investments in equipment and hiring people "so they can build product for us," Alan said.
Alan said the $2.5 milion Auto Parkit has invested in Warren "shows we are committed to the city of Warren, the Trumbull County area, and the investment that all of the entities have made."
Among those entities are the Western Reserve Port Authority, which fronted money for an environmental assessment at the Packard site, and the state economic-development organization JobsOhio, which will reimburse the port authority for the $200,000 study.
"We are going to create something great here in the city of Warren," Alan said. "We want to see great things come back here, and we think we are going to be one of the great things that does come back."
More like this from vindy.com