Local brewers unite for betterment of the industry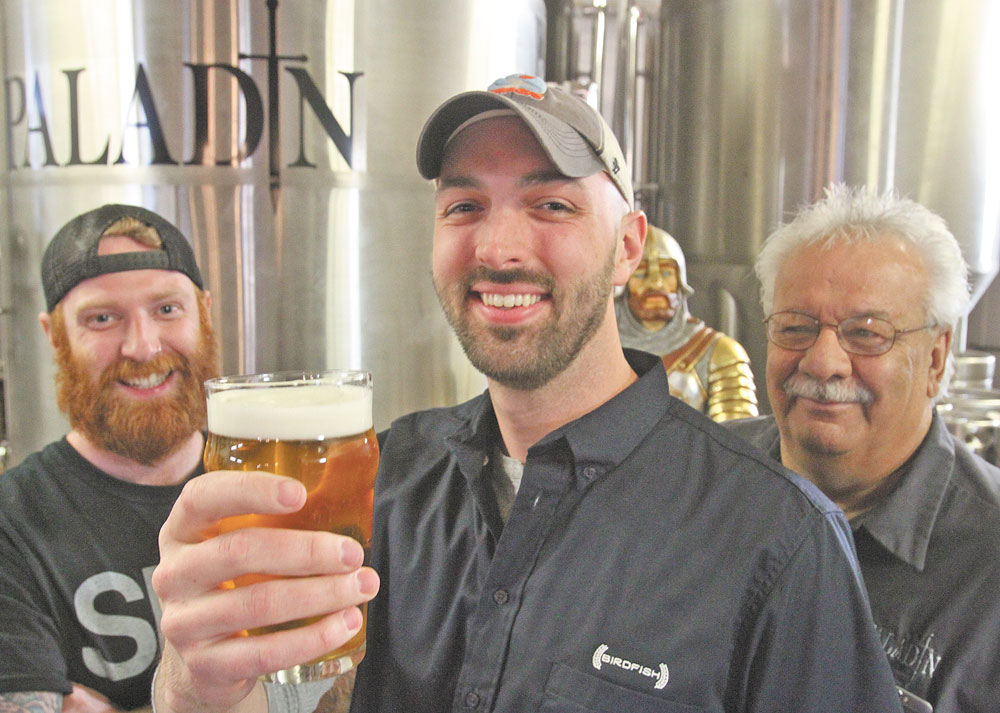 ---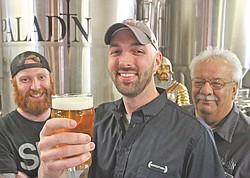 Photo
State Line Brewers Guild members from left to right, Ira Gerhart of Noble Creature Cask House, Josh Dunn of Birdfish Brewing and Bob Schott of Paladin Brewing at Paladin Brewing in Austintown 3-22-17.
By Jim Cyphert
YOUNGSTOWN
Hatfields and McCoys. Browns and Steelers. Buckeyes and Wolverines. Democrats and Republicans. All rivals that one wouldn't expect to team up to help each other.
They could learn a thing or two from members of a new trade association in the Mahoning Valley that's bringing tooth-and-nail competitors together for the betterment of their industry as a whole.
The State Line Brewers Guild had its first meeting in January. The group is comprised of craft breweries from Columbiana, Lawrence, Mahoning, Mercer and Trumbull counties.
The Brewers Guild, the brainchild of representatives from Birdfish Brewing in Columbiana and Paladin Brewing in Austintown, meets the first Thursday of each month to talk shop. Topics have ranged from licensing and permitting to operations and marketing.
While all compete for the same beer drinkers – craft beer lovers throughout the Mahoning Valley and beyond – there is value in lifting the image of Mahoning Valley-made craft beer and benefits for each local brewery.
State Line Brewers Guild meetings serve as an opportunity to share experiences and learn from others.
"As craft beer continues to expand, we see opportunities for local breweries to work together to improve the experiences craft beer lovers are having here in the Mahoning Valley," said Josh Dunn, co-owner of Birdfish.
Mahoning Valley craft breweries are rooting for each other to succeed and are there for each other to lean on, Dunn said. The Brewers Guild is proof positive.
"We got so much support from other craft breweries when we opened," he said. "As an example, the guys at Crooked Tongue Brewing gave us a lot of advice. It would have been tough to do everything on our own. We all want to help each other. The experienced brewers get some ideas from the younger guys, and those of us who have been around a while can let the newer brewers know some of the things we've been through."
Dunn added that craft brewers in the Mahoning Valley are a close-knit group.
"This is more like a family atmosphere than a competitive situation," he said. "If we lift the industry as a whole, we all will see the benefits. That's the philosophy behind the State Line Brewers Guild."
The March meeting featured the group's largest crowd yet. Biker BrewHouse of Austintown, Birdfish Brewing of Columbiana, Brew 32 of Pulaski, Pa., Crooked Tongue Brewing of Edinburg, Pa., Modern Methods Brewing of Warren, Noble Creature Cask House of Youngstown, Paladin Brewing of Austintown and Stone Church Brewpub of Hermitage, Pa. were all in attendance.
The hopeful outcome from the group's work is for there to be more efficient brewers making and selling better beer resulting in the Valley becoming a more widely recognized region for quality craft beer.
One new brewery set to open this summer in Youngstown is already benefitting from the Brewers Guild. Ira Gerhart, owner and operator of Noble Creature Cask House, said he immediately felt comfortable with the group.
"I had questions about permitting, licensing, brewery operations and more," Gerhart said. "And, there was no topic that was off limits. The State Line Brewers Guild is going to be an important element in helping to put the Mahoning Valley on the map for craft beer. There are so many great breweries here in the Valley, and so many people who want to help make good things happen here."
Gerhart said it makes sense to put the collective creative energy the breweries have together in one room to see what can happen.
"The more people who come to the Mahoning Valley to drink our craft beer, the better," Gerhart said. "This is a group of people who all share the vision of spreading the word about the great craft beer scene we have here in the Valley. I'm curious as to how much we can accomplish working together."
Bob Schott, brand ambassador for Paladin Brewing, sees many benefits coming from the Brewers Guild.
Having started in the Mahoning Valley food and beverage business in 1969, Schott is the grizzled veteran of the group. Schott's experience includes time at Meander Brewing, B&O Station Brewing, the Box Car Lounge, Ohio Brewing Co., Rust Belt Brewing and Vintage Estate prior to joining Paladin in 2015.
"I've been around the Valley craft beer scene for a lot of years," Schott said. "When I was just getting started, I was fortunate to have had some experienced people take me under their wing. The least I can do is help out some of the younger guys."
Schott said the passion those young brewers – like Gerhart at Noble Creature, and Dunn and his partners at Birdfish – have is energizing.
"The atmosphere at our meetings is exactly what we were hoping for," Schott said. "All of these guys want to brew great craft beer, and they are having a lot of fun doing it. I learn something every time I attend one of the meetings. And hopefully, others learn something from me. It's so great to see other new breweries joining Paladin here in the Mahoning Valley."
No one's quite sure what the future has in store for craft beer in the Valley, but there are no signs of the phenomenon slowing down.
The next guild meeting is at 7 p.m. April 6 at Vintage Estate in Boardman. The meeting is open to brewers and related businesses in the region.
More like this from vindy.com