Mahoning County Educational Service Center welcomes new board member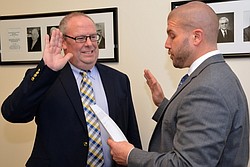 Photo
Neighbors | Submitted.MCESC Treasurer Blaise Karlovic is pictured swearing in Jeffery P. Good.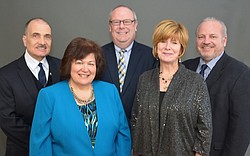 Photo
Neighbors | Submitted.Pictured are, from left, Board President Richard S. Scarsella, Atty. Kathi McNabb Welsh, Jeffery Good, Board Vice President Marie Dockry and Atty. David Engler.
On Feb. 16, the Mahoning County Educational Service Center Governing Board recently had its regular meeting, welcoming new board member Jeffery Good. Good was sworn in by Treasurer Blaise Karlovic.


Good was appointed to fill the unexpired term of James Hall, who retired in January. Good is the Director of Education at Western Reserve Public Media, where he manages two statewide initiatives called Ohio Educational Technology Agencies and Ohio Ready to Learn.
Good joins a strong governing board with more than 60 years of combined service to the MCESC and its educational mission.
Board President Richard S. Scarsella of Boardman was recently recognized for more than a decade of service at the Annual All Boards Dinner, while Vice President Marie Dockry is the longest serving board member with 21 years service.
Attorney David Engler was first elected in 2002, and Attorney Kathi McNabb Welsh has served almost as long, with nearly 15 years on the board.
The MCESC partners with 23 school districts representing nearly 46,000 children in Mahoning, Columbiana, Portage and Trumbull Counties. Through shared services, the goal is to keep the costs of education low, by maximizing the benefits in curriculum services, professional development and special needs programs and services.
More like this from vindy.com