Trumbull sweeps Al Beach Classic
Al Beach Basketball Boys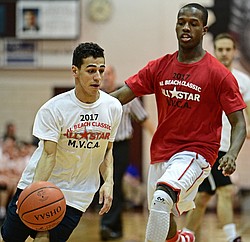 Gallery
Al Beach Basketball Girls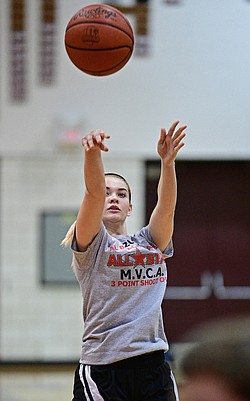 Gallery
Al Beach Basketball Girls
Boardman
The Trumbull County boys team took home the 47th Annual Al Beach Classic title with a 73-72 win over the Mahoning County boys on Tuesday night.
"All-Star game or not, we're still out here to win," said Warren JFK's Justin Bofenkamp.
Bofenkamp led the Trumbull County team with 10 points to earn the MVP award.
"It's real light," Bofenkamp said. "We're just out here having fun. We're all good players. It's fun to see what everybody can do."
But for both teams, a win doesn't trump the chance to play another game.
"This game is for fun, so we came out here and put on a little show," said Ursuline's Anthony Howell.
Howell put on a big show, scoring 16 points and dunking several times to earn himself MVP honors for the Mahoning County team.
"It's really fun, especially when we can come out and dunk some balls, shoot some 3's and get the crowd cheering," Howell said.
The Al Beach Classic and other senior all-star games provide opportunities for players to suit up one last time as high school players and perhaps team up with or face off against players they've not seen before.
But there were already ties that bind for some of these players.
"Everybody is a little tight and you never know who's going to take a hard foul a little too seriously," Bofenkamp said. "Everybody's cool, though. We're all just trying to have fun, no one's trying to get anyone hurt."
In fact, most of them have been friends for years.
"I was extremely excited. They're my boys, we grew up together," said Warren Harding's Lynn Bowden.
Bowden, Howell, Anise Algahmee of Ursuline and Jake Cummings of Canfield played on the same AAU basketball team.
"We kind of grew up playing together, so it was fun to get back together for one last game," said Cummings.
It showed in the way they high-fived, joked around and cheered for each other.
"At Ursuline, that's what we do," Howell said. "We support one another and at the All-Star game, it's no different. Support, support, support. No matter what."
Algahmee said: "It was amazing and a great experience to do something after the season. It was just something to lighten up the mood."
The Trumbull County girls also beat Mahoning County, 57-35.
Howland's Sara Price scored 18 points and Natalie Lynn of Fitch had eight to earn MVP honors.
But compared to the boys, the girls were a little timid heading into the game.
"It was kind of nerve-racking because some people you have disagreements with during the season, but we all got along and it was fun meeting everyone," Price said.
Megan Payich of Girard agreed.
"It's fun," she said. "I was nervous at first because there's a lot of tension during the season when you compete against each other, but everyone is great and it was fun to play with all the best players in the area."
Payich won the 3-point shootout by knocking down 15.
"It's something to show my hard work throughout the season," Payich said. "There were other really great shooters, so I was obviously nervous about that, but toward the end I was like, 'Forget it. Whatever happens happens.' "
Jake Clark of United won the boys competition with 14.
More like this from vindy.com