---
By Kalea Hall
BOARDMAN
Thomas Humphries CEO and President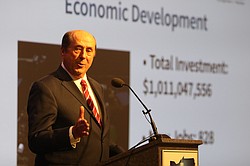 Video
Tom Humphries announced on Thursday at the chamber's annual meeting that he will retire as CEO Dec. 31.
The colonel is back in town – except this time, his title won't include colonel.
James Dignan's new title will be chief executive officer of the Youngstown/Warren Regional Chamber.
Tom Humphries announced Thursday at the chamber's annual meeting that he will retire as CEO come Dec. 31.
Dignan was previously the commander of the 910th Airlift Wing in Vienna. After about four years on the local base, last October, Dignan moved on to a new assignment as the Individual Mobilization Augmentee to the director, Mobilization Global Force Management and Readiness at the U.S. Air Force headquarters in Washington, D.C.
Then opportunity came knocking here in Youngstown, and he answered.
"I looked at a number of opportunities," he said. "This just [was] an excellent opportunity for me and the family."
Dignan will start at the chamber in June as the chief operating officer. He will work with Humphries before he retires and learn the structure of the chamber and find its strengths and weaknesses. Dignan's ultimate goal is to grow the chamber.
"I think there's a lot of opportunity here," he said.
The chamber's board of directors approved Dignan as the next CEO after a review of about 35 people for the position.
"James is really a great communicator," said Ted Schmidt, chairman of the chamber's board and regional president for PNC Bank. "He's not afraid to make decisions."
Humphries has been president of the chamber since 1997. During his time as president, he began an economic development and marketing program. He also was behind the creation of the chamber's "From Steel To Scholars" program, which motivated public school districts to receive Excellent and Effective ratings on Ohio's Report Card.
"I've had a long career in a few areas. That's why I was so interested and engaged in this process," Humphries said of the process to find a new CEO.
Humphries said Dignan's leadership skills make him fit for the position.
"He's a risk taker," Humphries said. "He stands up for his people. He will do what's right for the community."
Also at the chamber event, awards were given to those who made an impact on the community.
Those awarded are: Bill Siderewicz, president of Clean Energy Future, who received the William G. Lyden Jr. Spirit of The Valley award; Gary Small, president and CEO of Home Savings, who received the Donald Cagigas Spirit of the Chamber award; Ralph Meacham, Mahoning County auditor, and Josh Mandel, Ohio treasurer, who both received the Chairman's Political Achievement Award.
Siderewicz received his award for building two multimillion-dollar natural-gas power plants to Lordstown.
Small was awarded for his dedication to the chamber's "Victory for the Valley" campaign to get the area noticed by developers and others during the Republican National Convention in Cleveland last summer.
Mandel was awarded for unveiling ohiocheckbook.com, which enabled governments to post their finances online for taxpayers to review. Meacham received the award for making sure Mahoning County was the first county to have its finances uploaded to the website. Today, there are more than 1,000 Ohio cities, counties and school districts with their checkbooks on the website.