Boy Scout fundraising breakfast to take place on April 25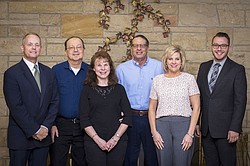 Photo
Neighbors | Submitted.The Whispering Pines District of the Great Trail Council, BSA 2017 Celebration of Scouting Breakfast Committee members are Mark Luke, Mike Kupec, Laura Kupec, John Barkett, Katie Burkey and John Brkic - Whispering Pines District Executive and Committee Chairman.
The public is invited to the Whispering Pines District Great Trail Council Boy Scouts of America's 12th annual "Celebration of Scouting" breakfast fundraiser on April 25 at Holiday Inn – Boardman, located at 7410 South Avenue in Youngstown. Join in to recognize the impact of the Scouting Program in providing leadership skills training to our youth and how it prepares them for success in their future.
This year's speakers are Greg Smith, Chairman of the Board of Compco Industries and founder of Diamond Management Systems; Artemus "Art" Scissum, principal of Martin Luther King Elementary School in Youngstown, and Victor Di Tommaso, a Life Scout in Boy Scout Troop 2 chartered to Poland United Methodist Church and a junior at Poland Seminary High School.
Serving as Master of Ceremonies is Mark Luke.
The Whispering Pines District of the Great Trail Boy Scout Council serves families in Mahoning County and Hubbard, with more than 1,000 youth involved supported by more than 600 adult volunteers. Great Trail Council serves more than 13,000 scouts in Summit, Portage, Medina, Mahoning, Trumbull and northern Wayne counties. Scoutreach is the BSA's commitment to making sure that all young people have an opportunity to join Scouting, regardless of their circumstances, neighborhood or ethnic background. Scoutreach is Cub Scouts and Boy Scouts locally in community settings such as the Youngstown City School System and the Mahoning County Juvenile Justice Center.
Mark your calendar and join in for this fundraiser, which is a wonderful tradition and a celebration of Scouting's impact on Mahoning County. Attendees include individuals from area businesses, community leaders, as well as those who believe in the Scouting program. During this time, you will be introduced to the lessons Scouts learn for life along with the scouting traditions their family and friends have experienced with them that strengthens the scouting program for youth and families in our district. Scouting strives to develop leadership, character, citizenship and life-saving skills while enjoying camping, hiking, rock climbing and more.
Doors open at 7 a.m. and breakfast will be served between 7:30–8 a.m. with the program ending by 9 a.m. Reservations are required by April 7 by calling John Brkic at 330-773-0415 ext. 230 or john.brkic@scouting.org.
If you are interested in making an investment in scouting and cannot attend the event, donations can be made by making a check payable to Great Trail Council-BSA and send to: Great Trail Council-BSA, Attn: WP FOS Breakfast, 3712 Leffingwell Road, Canfield, OH 44406. Sponsorships are available at multiple levels and include: Eagle - $5000 and sponsors 33 Scouts for one year of scouting; Tenderfoot - $2500 and sponsors 17 Scouts for one year; Webelos - $1500 and sponsors 10 Scouts for one year; Tiger Cub - $750 and sponsor five Scouts for one year; and other - Scout - consider a gift in multiples of $150, supporting one or more Scouts.
The deadline to have your sponsorship donation placed in this year's program is April 7. A sponsorship form is available by contacting John Brkic at 330-773-0415 ext. 230 or john.brkic@scouting.org.
John Brkic, Whispering Pines District Executive is chairperson for this year's event.
Breakfast Committee members include John Barkett, Katie Burkey, Albin Dearing, Stephen Halloran, Kurt Hilderbrand, Mike Kupec, Laura Kupec, Mark Luke, Bill Moss, John Russell and John Yerian.
More like this from vindy.com