Kravitz's Corned Beef Fest on holiday menu again
By KALEA HALL
khall@vindy.com
LIBERTY
VIDEO: The history of Corned Beef
The history of Corned Beef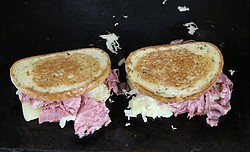 Video
Kravitz Deli is celebrating St. Patrick's Day with a week-long Corned Beef Fest. Owner Jack Kravitz shares the history of corned beef and the preparation to make it.
In her later years, Rose Kravitz got only one day a year to cut the corned beef at the deli she started.
That day was St. Patrick's Day, when Corned Beef Fest was in full bloom at Kravitz Delicatessen.
"She loved the idea of Corned Beef Fest," said Jack Kravitz, Rose's son who now runs the Belmont Avenue deli and its three other locations.
Jack keeps in mind his mother's particular way of cutting the corned beef.
In her eyes, part of the corned beef pays for the ingredients in the food at the deli, the labor to run the deli and the cost to keep the lights on. A very important part of the corned beef comes at the end – where the profit sits.
"If you don't cut down to the end, then you are throwing away my profit," Rose would say.
This week, there will be plenty of corned beef cut right down to the end for another Corned Beef Fest, a tradition at Kravitz Deli for 10 years.
Corned beef is pickled beef brisket. It's pickled. It's boiled. And then it's sliced to perfection.
Brisket, as Jack explained, is the meat of the Jewish community.
"When Jews came to this country, they were poor," he said. "They were eating cuts of meat that would have been thrown away."
Such cuts include the brisket, which is from the chest of the cow, and oxtail.
"Brisket was especially difficult because it was very tough," he said. "There's also a lot of technique involved."
The Irish also came to the country poor. They were in search of the boiled bacon they had back home, but it couldn't be found.
"There was nothing that resembled boiling bacon here in America, and when so many Irish immigrants came in the late 1800s, many of them ended up living in ghetto areas, and a lot of them had Jewish neighbors, and the brisket, a popular boiled dish, was the closest thing they could come to," said Margaret McGlew Johnson, author of 11 Irish cookbooks. "It was more or less adopted here and became an Irish-American dish."
Johnson grew up in Massachusetts in an Irish-American home.
"When I grew up, I ate corned beef and cabbage, but it tastes nothing like what they have now and what they sell in the Jewish deli," she said. "It was very, very mild."
In Ireland, there really are not corned beef sales, except in tourist areas where it is expected.
"In the average home, people would not be making corned beef and cabbage," she said.
Kravitz Deli's head of sales for its bagels, John Monroe, was the guy who gave Rose Kravitz the idea of serving up corned beef as a speciality for St. Patrick's Day celebrations.
"It went great," Jack said. "She was shocked. She was shocked at how accepting the Irish community was to Jewish corned beef."
Every year kept getting busier. Kravitz added Irish entertainment to the mix.
"That's when it really started to become a big event," Jack said.
The celebration went from one day to a whole week of promotions.
This year, it kicked off with a fish fry last Friday and will continue today with $1 off large sandwiches; at the Liberty location, there will be $4 pints of Guinness and Conway Irish Ale.
Thursday at Kravitz is "St. Reuben's Day" featuring corned beef and cabbage dinners. At the Liberty location, County Mayo Irish Band will perform from 6 to 9 p.m.
St. Patrick's Day at the Liberty location has all-day entertainment to go with the corned beef. There's a DJ scheduled for the morning and an Irish sing-along in the evening. The Corned Beef Fest party doesn't end at the Liberty Kravitz until 10 p.m.
Jack says he will go through about 6,000 pounds of corned beef for Corned Beef Fest in the nearly 2,400 Reuben sandwiches and 1,200 corned beef and cabbage dinners he will sell just on St. Patrick's Day.
St. Patrick's Day observes the death of St. Patrick, the patron saint of Ireland.
"It's a corned beef holiday," he said.
More like this from vindy.com