Published: Tue, March 14, 2017 @ 10:44 a.m.
VIDEOS: Clips from the Meat 16 Burger Challenge
Clips from Meat 16 Burger Challenge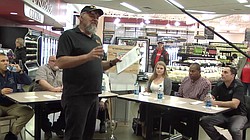 Video Set
By Anthony M. Fuda
BurgerGuyz@hotmail.com
What we heard throughout the 2017 Badurik's Butcher Block Cheeseburger Challenge is "If that burger was against any other burger it would have won."
Well, Big D's Newton Grill was THAT burger and powered through the four rounds of the Meat 16 to bring the trophy to Trumbull County, specifically Newton Falls. (Last year, The Magic Tree in Boardman (Mahoning County) won the inaugural Meat 16).
This year, the battles were more intense. Everybody had fun, but were there to compete and take home the trophy.
Rulli Brothers in Boardman did an excellent job hosting the event and as the judging started the crowd of onlookers got bigger and bigger, cheering on their favorite restaurant.
As the BurgerGuyz walked around the kitchen making sure the chef's had everything they needed, it was like walking through an operating room watching a surgeon delicately and precisely do their task - creating a burger masterpiece for the judges to enjoy.
The judges looked pleased as they devoured the burgers, and then moved on to deliberation, then deciding two winners to meet in the Finals. The judges consisted of Fat N Furious member, and Christmas Automotive owner Tom Christmas; sponsor and butcher Steve Badurik, from Badurik's Butcher Block (Mineral Ridge); Vindicator writer Bertram de Souza; the Mahoning County sheriff's Department's Billy Cappabianca; Youngstown Flea founder Derrick McDowell and Vindicator writer Jordyn Grzelewski.
The Final Four brought:
Trumbull County
Niki'z Pub (Niles), owner/chef Nick Logan made a Smokehouse brisket burger (custom blend fresh ground beef, topped with dry-rubbed brisket, house made onion fries, chili pepper cheese on a toasted Italian roll).
vs.
Big D's Newton Grill (Newton Falls), chef Ron Dillon created an 8 oz burger (stuffed with pepper jack, sitting on top of provolone. Topped with three pepper cheese, sliced rib eye, grilled green peppers and onion, a dash of A1, smoked gouda mayo and sriracha mayo).
Mahoning County
Davidson's Restaurant (Cornersburg), chef Bill Fagan brought the Billinator (10 oz Angus burger, stuffed with scallions, bacon, cheddar-jack cheese. Topped with bacon, lettuce, tomato, pickles, ranch style sauce on grilled Italian bread with cheddar-jack cheese).
vs.
The Pour House Bar & Grill (Canfield), chef Johnny Sexton made the Sweet Meat Brah (8 oz shortrib/brisket patty with waffle battered onion tanglers, havarti cheese, bistro sauce and raspberry glazed bacon).
The Final Four was under way, and the judges for each county tasted the burgers, tasted them again and then analyzed what they liked most about each burger. After consulting with their palates, they came to a decision.
Tommy Christmas, said a little more flavor from the Billinator pushed them over. Billy agreed, and Davidson's took a 2-1 victory, advancing to the finals.
Jordyn, Derrick and Steve all chose Big D's Newton Grill saying the bacon and flavor had just enough to move them to the Finals. Jordyn said "Everything about Big D's burger was delicious."
Steve said, "The combination of cheeses and the bacon really gave the burger a great flavor."
We even had out own little Steve Harvey / academy Awards La La Land moment. The Trumbull County winner was Big D's, but the envelope revealed Niki'z. We'll blame that on Price or Waterhouse, but we think it was Warren Beatty who handed Fast Freddie the wrong card.
Even thought Niki'z didn't advance to the Finals, owner Nick Logan said it was "fun, and a great time for everyone."
Chef Johnny Sexton from the Pour House said, " The burgers I've been making are burgers I like to eat. I am putting out what I would eat and hoping other people enjoy it. It's proven that most people have so far."
After a short break, the winning chefs went back to the grills and prepared their burgers for the Finals.
The judges were pared down to Tommy, Billy and Derrick for the Finals.
Davidson's rode the Billinator this far, and didn't want to mess with the solid burger that got them to the Final Four.
Big D's went back to the drawing board and brought some heat to the Final round. Chef Ron brought out the Spicy Cuban (8 oz burger, grilled pork, grilled ham, pepper bacon, spicy honey mustard, chipotle mayo, chipotle gouda cheese, Swiss cheese, havarti cheese, on a pressed panini-style bun).
The judges had a tough decision with the final burgers. It was a slug fest from the very first bite. Meat, bun, flavor. Pow, Bam, and gladiators looked on. The burgers were so close it came down to a split decision.
Tommy Christmas ,"This decision was really tough. I like the bread and sauce, so I chose the Billinator."
Derrick said, "I liked the flavor of the Spicy Cuban. It was delicious."
This means there had to be a tiebreaker and Billy was up to the task, saying, "Both burgers were just great. I personally am going to pick the Spicy Cuban because of the bread chosen for the cheeseburger. It really set it off."
By a 2-1 decision Big D's Newton Grill is the 2017 Badurik's Butcher Block Cheeseburger Challenge Champion.
Big D's chef Ron Dillon said his winning strategy consisted of using a lot of layered taste on the Spicy Cuban, helping him take home the trophy.
When Big D's name was announced as the winner, you could hear the crowd erupt in cheers, supporting chef Ron.
Throughout the Tournament, we heard the chefs saying they are already thinking of cheeseburgers for next year's Meat 16 Cheeseburger Challenge.
We'd like to thank Rulli Brothers for hosting the event. Also, for all the judges who helped pick this years champion: Fast Freddie, Ron Potesta, Greg Bartholomew, Fat N Furious star and owner of Christmas Automotive Tommy Christmas; 101 year old centenarian Frank Simeone, military veterans Scott Spackman, Vic Rivera, Jamie McGinnis, Badurik's Butcher Block staff Sylvia Meris, Andrew Garris, Louie Rendes; and a special thanks to Steve Badurik and the Butcher Block for sponsoring the 2017 Cheeseburger Challenge.
Keep reading the Valley food section each Wednesday for the best food the Valley has to offer.
If you think you know where the next Burger of the Year is, send the info to BurgerGuyz@hotmail.com, or on our Facebook page BurgerGuyz