CHEER & CHILL: Valley residents brave cold for annual St. Patrick's parade
By Sean Barron
BOARDMAN
Mahoning Valley St. Patricks Day Parade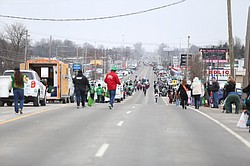 Gallery
While many people may not relish cold weather this close to the start of spring, one group literally flipped over it.
"Everything about the parade is exciting," said Joyce Kale-Pesta, who was referring in part to the Owens Construction BMX Stunt Team, which kicked off Sunday's 39th annual Mahoning Valley St. Patrick's Day Parade that began near Market Street and McClurg Road and proceeded 1.5 miles up Market to Southwoods Place.
"When it's cold, it's a tailgate party like at a football game," she said.
Despite temperatures in the mid-20s, a stiff breeze and intermittent snow flurries, many spectators lined the parade route while others sat in their vehicles to watch the popular one-hour celebratory procession. A large crowd assembled to see the stunt team on bicycles perform a series of freestyle tricks and airborne flips on two steep ramps over a maroon McLaren, a rare type of sports and luxury vehicle.
An estimated 140 entries made up this year's parade, themed "May the Irish be with you," noted Kale-Pesta, parade president and board member. Main sponsors were The Vindicator, 21 WFMJ-TV, The Vindicator's broadcast partner, and the Mahoning Valley Irish Organizations.
Acting as master of ceremonies was Casey Malone, parade director and a longtime area broadcaster.
The festivities included the usual array of vehicles from numerous local fire and police departments, along with the Aut Mori Grotto Clowns, the Youngstown Shrine Club, Boardman High School Spartan Marching Band and one from Ursuline High. New to the parade were the stunt team and the U.S. Navy Band, Kale-Pesta continued.
An attraction for many parade-goers included a series of jumps and tricks from dogs with Sit Means Sit Mahoning Valley, a Mineral Ridge-based dog-training facility. Also in the parade were several large and lean dogs, courtesy of the Irish Wolfhounds of Northeast Ohio organization.
Other animals that were a source of spectators' pleasure were from the Lucky Llamas 4-H Club, as well as a camel.
Car enthusiasts and football fans weren't disappointed, either, thanks to the Mahoning Valley Olde Car Club and the Mahoning County Corvettes Club. In addition, a San Francisco-style streetcar with a 49ers logo passed as many people cheered.
Providing additional entertainment was a group of girls with the Burke School of Irish Dance, which was founded in 1958 in Cleveland and teaches traditional Irish dancing. Also in the mix was the Steel City Ambassadors Drum & Bugle Corps. of Pittsburgh, which offered several horn selections.
Making their way through the crowds were vendors who sold all things green – everything from jewelry to buttons to shamrocks to plastic footballs.
The parade's grand marshal was Edward J. Reese, a former three-term Mahoning County commissioner who, along with his wife, Diane, started EDM Management Inc. in 1998. The company provides comprehensive management and consulting services to several area nursing homes and a fitness center.
"It's a great honor," Reese said about having been selected. "It's great to see familiar faces and two and three generations of families."
Other honorees were Sharon M. Sabatka, the 2017 Cleary Award recipient; Bob Hankey, 2017 Ockerman Award recipient; and Kevin McGuire, Lord Mayor of Kilkenny. The Ancient Order of Hibernians Man and Woman of the Year were Youngstown Mayor John A. McNally and Tracy Simmons Bonilla, respectively.
The festivities continued during an after-party at the International Union of Operating Engineers Local 66 building on McClurg Road. Hundreds filled the hall to celebrate Irish heritage and culture while listening to music by the Shaffer Brothers Band.
More like this from vindy.com