Harding falls to Lake in OT
By Greg Gulas
ALLIANCE
Harding vs Uniontown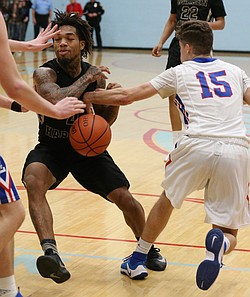 Gallery
Lynn Bowden saved the day for the Warren Harding boys basketball team at the end of regulation on Saturday night, but the Raiders' respite was just temporary.
Bowden completed Harding's furious rally with a buzzer-beating 3-pointer to force overtime, but Lake's Joe McBride made four free throws in the extra session as the Blue Streaks beat the Raiders, 59-56, in the Division I district final at Alliance High School.
Harding (18-8) played catch-up most of the night after falling behind 18-4. The Raiders did not make a field goal in the first quarter.
"We were so out of rhythm in the first quarter, it looked like we had never run anything before," Harding head coach Andy Vlajkovich said. "The second quarter we finally calmed down a bit, got some spacing and the ball started moving a little more, but we were a mess on offense all night.
"We were disorganized at times and never really found an offensive rhythm."
McBride's 15 points led five players in double figures for Lake (19-6), which raced to that big early lead and then had to weather two rallies.
The first got Harding within three, 22-19, by halftime. The second came after the Blue Streaks took a 10-point lead into the fourth quarter.
Tiryn Frank's long-distance bomb gave the Raiders their first lead of the game, 48-47 with 51 seconds to play in regulation.
The lead was short lived however, as Mike Spotleson's layup gave Lake a 49-48 with 33 seconds left.
Two Jim Kirven free throws increased the margin to 51-48 with 24 seconds left.
But Bowden would not be denied as he followed his miss and nailed a triple from the right corner with under a second left.
But the Raiders couldn't make the most of their new life in overtime and the Blue Streaks earned a regional semifinal berth against Garfield Heights on Wednesday night at Cleveland State's Wolstein Center.
Kirven, Jake Maranville, Jake Hutcherson and Spotleson were the other Blue Streaks in double figures, each adding 10 points, as Lake avenged a 48-42 loss to Harding in last year's district final.
"Warren has a great program and while last year our shots were deflected at the rim, this year our bigs played great inside and that was a big difference for us," McBride said. "It was a game of runs in that we took the early lead, they came back and caught us in regulation, but we were able to hit our shots in overtime for the win."
Bowden, who scored just two points over the first 24 minutes, then took command in the final five minutes of regulation.
Trailing 44-34, three buckets by Bowden kick-started an 11-2 run as Harding got back into the game.
Lynn Williams and Mike Hughes had a game-high 14 points for the Raiders. Bowden finishing his scholastic career with 13 points, including 11 after the intermission.
The Raiders started the season 4-6 before winning 14 of their final 16 games
More like this from vindy.com