LaBrae's strong season ends with only loss
Garfield LaBrae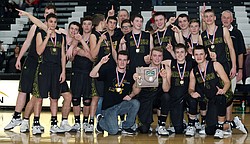 Gallery
Warren
For the first time this season, the LaBrae High School boys basketball team felt what it was like to lose.
The Vikings' only defeat came in Friday's 58-56 loss to Garrettsville in the Division III district final at Warren Harding.
"It's just an enormous amount of pressure and these guys did a great job," LaBrae coach Chad Kiser said. "I told them it's just darn near impossible to go 24 games and not lose one."
LaBrae trailed 56-51 with less than two minutes remaining in a wild finish.
Tariq Drake picked up up a steal, made a layup and drew a foul. He hit the extra point to pull the Vikings within two with 1:34 on the clock.
The G-Men hit a foul shot to extend their lead 57-54. It was LaBrae's ball with 22.6 seconds left.
Tyler Stephens had an open look from the corner, but his shot didn't fall and the G-Men got the rebound. But a nice hustle play from Michael Eakins put the ball back in the Vikings' hands.
It was short-lived as the ball bounced off Logan Kiser and into the hands of a Garrettsville player.
LaBrae was forced to foul, and Ryan Brown couldn't convert at the line. In frustration, he fouled Drake with 17.2 seconds remaining.
Drake, who led the team with 19 points, missed the first of the one-and-one, forcing LaBrae to foul again. After Dalton Fall's foul shot bounced off the rim, both teams dove for the loose ball. A jumpball was called and the possession arrow was in favor of the Vikings.
With 3.8 seconds remaining, Eakins drove to the hoop and picked up two points and LaBrae trailed 57-56.
The G-men knocked down one of two foul shots and the Vikings received one more chance with 3.6 seconds on the clock.
Kiser called a timeout to draw up options.
"We ran the last play with an option to shoot the three or pass to the side," Kiser said. "They kind of backed off and I thought Logan [Kiser] got a nice job of pushing up and getting a decent look."
Logan Kiser pulled up from the 3-point line just before the buzzer.
"I pictured it going in as it left his hand," Chad Kiser said. "It looked good."
The ball hit the backboard and bounced off the rim.
"Your heart stops there for a minute and then it kind of still stops, I guess, or breaks I would say because I feel for the kids," Chad Kiser said.
Garrettsville advances to the regional tournament for the first time in school history.
"Anything worthwhile isn't supposed to be easy and our guys dug in when it mattered most," Garrettsville coach Andy Olesky said.
Playing the number-one team in the state, the G-men weren't as nervous and you might expect.
"Our message was to relax, there's no pressure on us," Olesky said. "We got a team that's on a 24-game win streak that's expected to win and do some things.
"We had no pressure and I think they really bought into that message," Olesky said.
The feeling of defeat is pretty new to the Vikings.
"There's only one team that makes it to the very end," Kiser said. "There's going to be everyone else in our division that are going to feel what we feel tonight only at different times.
"I can only ask them to play as hard as they can play and they've done that all year long. I was extremely proud of our effort, but it hurts. But they're resilient young men and they'll bounce back."
More like this from vindy.com