5 Valley wrestlers qualify for state finals
RELATED: STATE WRESTLING DAY 2 ROUNDUP
Wrestling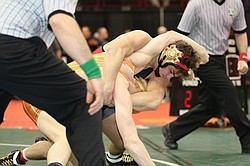 Gallery
Canfield's Poullas going for second-straight crown
By Brian Dzenis
COLUMBUS
Five wrestlers representing the Mahoning Valley in Saturday's state tournament finals offer some interesting questions.
Can Canfield's Georgio Poullas (160) solidify his case as the Cardinals' greatest wrestler to date?
Will West Branch's Ian Sharp (285) redeem himself after the Jerome Schottenstien Center was a house of horrors a year ago?
Can the Cardinals' Mason Giordano (285) win a title with a 55-pound disadvantage?
Can Beaver Local's Cole McComas (106) conjure one last last-second victory?
And can David Crawford (170) take after his sparring partner, Poullas, and win a title of his own?
Of the five contenders, only Poullas has seen the top of the mountain and had some advice for his teammates.
"The biggest thing is to stay calm. Your heart will pump. You'll get pumped up and you want to go out there, but it's good to be pumped up, but you have to calm yourself down," Poullas said. "I used to get hyped up and excited, but I realized over time if you've calmed yourself down and bring yourself to relax, you're going to do better."
Poullas walked through the fog machine and onto the stage last year wearing a gold Canfield singlet — reserved for wrestlers who make the finals — and a bored expression on his face. It worked as he won the 152-pound state title.
"Sometimes people get so hyped up and they try things too fast and it messes them up," Poullas said.
Crawford credits zen-master Poullas' mantra for breaking through to the finals.
"The main thing is to just forget about the match and everything. Just go out and score points," Crawford said. "I've already wrestled in the semis in the past two years and lost both times, so it can't get any worse.
"Just go out, score points, wrestle and have fun."
Crawford has given up just four points in the whole tournament entering today's finals.
"It's almost like a dream came true," Crawford said. "I've been working toward it my entire life and I'm just right there in the moment."
Another model of calm, patience and perseverance is McComas. The Beaver Local freshman waits until the final seconds of matches to make his moves, making for low-scoring matches. He got the deciding takedown in the quarterfinals against Tallmadge's Ed Suber with 10 seconds left for a 3-1 victory.
McComas took down West Branch's Christian Wayt with 17 seconds left in the third to win 4-3. He relies on his conditioning to wear opponents down and make them vulnerable at the worst time.
"It's all about getting those takedowns late in the third period," McComas said. "It's about wearing down your opponent and being able to go six minutes."
His older brother and assistant coach, John McComas, was a two-time semifinalist himself. He recalled Cole visiting him in the bullpen between matches. Now he has his shot.
"He's been talking about this since he was 5 years old and he's become very accomplished, so that's no surprise," John McComas said.
More like this from vindy.com