AES principal has special story time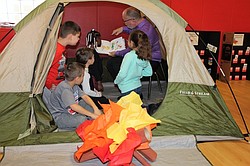 Photo
Neighbors | Submitted.Mr. Lenton read to the students by the "campfire" on Feb. 16.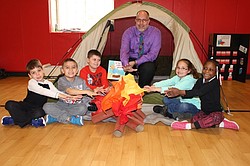 Photo
Neighbors | Submitted.Pictured are the lucky students that won a campfre story time with their principal, from left, Bryce Freudenberg, Enrique Martinez, Chris Johnson, Principal Tom Lenton, Alexia Little and Amireona Mcllwain.
Austintown Elementary School had some happy campers during the school's annual book fair.
On Feb. 16, five lucky students were selected to have storytime with Principal Tom Lenton in a tent set up in the gymnasium, complete with a "campfire."
AES students were asked to color a picture and give a $1 donation to help buy books for children who could not afford them during our book fair. When they donated the $1 they were able to pick a pencil; students who picked the winning pencil attended storytime.
Winner were Enrique Martinez (second-grade), Chris Johnson (second-grade), Amireona Mcllwain (Kindergarten), Alexia Little (first-grade) and Bryce Freudenberg (Kindergarten).
AES principals would like to thank the PTA for making this special outing possible.
More like this from vindy.com