---
If You Go...
What: Lanai Boardman
Where: 7631 South Ave.
Phone: 330-629-9605
Hours: Mon - Sat: 11am - 2:30am; Sun: Noon - 12:30 am
Menu: 10 burgers on the regular menu; 4 additional weekly special burgers ($5 - $9)
Website: Facebook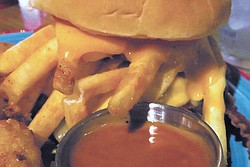 Photo
The Kickin Burger at Lanai is built with Pepper Jack and American Cheese sauce, bacon, hot peppers, hot fries, lettuce, tomato, and Cajun ranch on the side.
By Anthony M. FUDA
Some people stand on the lanai and see paradise as they look beyond the beach and breathe in the ocean breeze.
But for the BurgerGuyz, paradise involves the Lanai Lounge in Boardman, taking in the aroma of a perfectly cooked burger.
We arrived at Lanai with high expectations.
The menu offers 10 half-pound burgers and features four additional weekly specials. Restaurant managers Nicole and Stephanie Quinlan created the menu and continuously tweak it to keep the customers happy.
The regular menu includes: The Junior (lettuce, tomato, onion); Lanai (pepper jack cheese, banana peppers, bacon, Lanai liquor); Pepper Jack Melt (grilled onions, jalape ±os, pepper jack cheese, on grilled Italian bread); Patty Melt (grilled onions, American cheese, on grilled Italian bread; The Porker (pulled pork, BBQ, bacon, onion rings, cheddar cheese); Classic (lettuce, tomato, onion); Honey BBQ Burger (cheddar cheese, bacon, honey BBQ); Black and Bleu (grilled mushrooms, Swiss cheese, lettuce, tomato); and the Texas Burger (cheddar cheese, bacon, onion rings, BBQ sauce).
Some of the special burgers you might see on the menu: Triple Cheezer (smothered with American and Pepper Jack cheese, bacon, two mozzarella sticks, lettuce, tomato and Boom Boom BBQ sauce on the side); The Capone (homemade greens, roasted red pepper, mozzarella cheese); Brunch Burger (two fried eggs, hash browns, hollandaise sauce, white American cheese); Kickin Burger (Pepper Jack and American, bacon, hot peppers, hot fries, lettuce, tomato, Cajun ranch on the side); and Beer Cheese Burger (homemade beer cheese, bacon, hot peppers, lettuce and tomato on a pretzel bun).
You can side your burger with fries, hot fries, a salad, or the ever popular tater tots, which were one of the highlights of the evening.
I chose the Capone with a side of hot fries. I am a big fan of greens on a burger, and the layer of greens, pepper and cheese on a medium-cooked burger, between two slices of Italian bread, were delightful from the first bite to the last. Usually an Italian bread-type bun gets soggy, but Lanai's was toasted and made each flavorful bite that much better. The fries were fresh cut and dusted with hot seasoning.
Spatman was in the mood for some hearty Italian bread with his burger and couldn't resist the Patty Melt. He said the robust burger "set off my taste buds, making me want more with every bite. The grilled bread held up right down to the last morsel. Sided with tater tots it was a meal to die for. A big 4 on my wet nap scale."
Eric, always looking for more heat, saw the Kickin' Burger and remarked, "The name alone told me I was not going to be disappointed, and as I suspected, this thing delivered. The beef tasted very fresh and was uniquely seasoned. Once I was about halfway finished, I kicked it up a notch and added some specialty mix hot sauce. This only made a great burger even better."
Eric doubled down with Cajun Tater Tots. "Let me tell you, these little treats could stand on their own as a meal by themselves," he said. "Each one seemed better than the last." He noted that the Cajun Ranch sauce made them even better.
Chiz went with the Triple Cheezer.
"It was loaded up with cheese, American, Pepper Jack, and mozzarella cheese sticks," he said. "Yes, I said mozzarella cheese sticks!"
The rest of the burger was also surprising.
"My 8-ounce burger had me thinking the scales were off, which I didn't mind. The meat itself was cooked beautifully and spoke sweet nothings into my ear. Talk about a gut-buster."
Keep reading the Valley food section each Wednesday for the best food the Valley has to offer.
If you think you know where the next Burger of the Year is, send the info to BurgerGuyz@hotmail.com, or on our Facebook page BurgerGuyz