Penguins run out of time vs. Norse
YSU vs NKU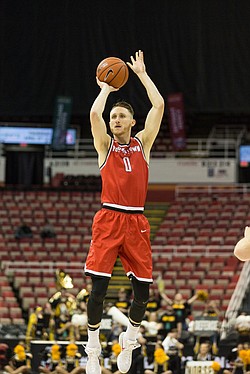 Gallery
By Paul Oren
DETROIT
Youngstown State spent much of Monday night's Horizon League tournament semifinal contest against Northern Kentucky fighting an uphill battle against a ticking time clock.
The Penguins twice did their best to erase 15-point deficits, but they could never get over the hump or catch that one break they needed to turn their fortunes in an 84-74 loss to the Norse at Joe Louis Arena.
YSU looked like it finally got an opening when Dantez Walton missed the front end of a one-and-one with just over two minutes remaining, but Northern Kentucky star Drew McDonald tracked down the offensive rebound and found Walton in the corner for a wide-open 3-pointer that gave the Norse an 82-74 lead with 1:38 left. The Penguins wouldn't score again.
"In the huddle, you're saying that this is it, this is our comeback," Youngstown State junior Francisco Santiago said. "We're doing everything right. It just takes one play to break your back. It hurts because you see yourself getting to the point where they are feeling the pressure and then they hit a shot."
McDonald scored 17 of his team-high 26 points in the first half as the Norse (23-10) opened up a 42-27 halftime advantage. The Penguins (13-21) came out flat as they missed their first three shots and turned the ball over once in the first 72 seconds of action. YSU shot just 31.4 percent (11-35) from the floor and missed five of seven free throws in the first half.
YSU star Cameron Morse wouldn't be deterred and the All-Horizon League performer scored the first five points of the second half and helped jumpstart the Penguins on an 9-0 run to cut the deficit to 42-36 with 17:09 remaining. Northern Kentucky point guard LaVone Holland responded quickly with a pair of 3-pointers and the deficit was back to 12 points less than two minutes later.
"I really thought after the first media timeout [of the second half] that the momentum was with us," YSU coach Jerry Slocum said. "We just couldn't get over that 15-point hump. I felt right from then that we were in it."
Holland scored 12 of his 20 points in the second half to help the Norse run their lead back to 70-54 with 6:50 remaining. The Penguins had yet another run as Matt Donlan buried back-to-back 3-pointers and the senior combined with Morse to score 17 of YSU's next 20 points to get within 79-74 with 2:21 remaining.
When Walton missed the front end of a one-and-one, it looked as if the Penguins would have a chance to get to within one possession for the first time midway through the first half, but McDonald grabbed the rebound and Walton put an end to YSU's season with a corner 3-pointer.
"I'm proud of our guys in terms of how they fought," Slocum said. "I thought we did a good job cutting it to five, but then we didn't get a rebound off a missed foul shot; there was a scramble and they made a three. That was the game."
Morse finished with a game-high 28 points while Santiago added 15 points, nine rebounds and seven assists. Donland had 14 points, including four 3-pointers, and six rebounds in his final collegiate game. Jorden Kaufman, Saturday's hero, was limited to five points and four rebounds in just 21 minutes.
"I'm proud of the ride that we had in this tournament," Slocum said. "It was a disappointing year in that we really were inconsistent. These guys got together before we started and they just talked about putting everybody else in front of them when it came to their teammates. It's very heartfelt for me in terms of my appreciation for this group. They played hard and it was enjoyable to watch them in these three games."
More like this from vindy.com