Youngstown Thermal hints at energy crisis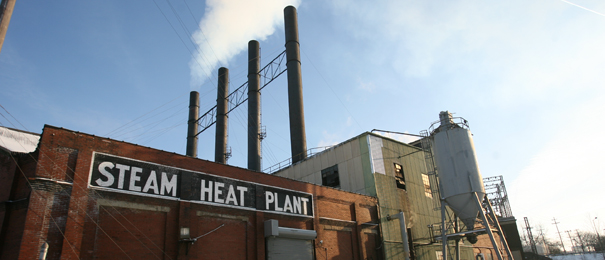 ---
By KALEA HALL
khall@vindy.com
YOUNGSTOWN
Youngstown Thermal Chief Executive Officer Carl Avers has been adamant in interviews this week that customers in his company's energy network shouldn't be afraid they will lose service despite reports of financial woes.
But his company conveyed a different story to the staff of the Public Utilities Commission of Ohio earlier this month when it told PUCO that the state had to intervene in Youngstown Thermal's financial struggles because "the current inability of Youngstown Thermal to pay its utility suppliers could result in an energy crisis in the downtown Youngstown area."
As a result of an ensuing investigation, the PUCO staff on Thursday requested the state immediately ask the Ohio attorney general to seek the appointment of a receiver for the beleaguered energy company.
The commission meets at 2 p.m. today to consider the staff's recommendation.
"Through this review, staff determined Youngstown Thermal is unable to pay utility suppliers, debt service, and employee payroll when those expenses are due," the report says. "Therefore, the [PUCO] staff determined the company is permitting or about to permit a breach of its duty to furnish adequate service to its customers and is instead insolvent and or in imminent danger of insolvency."
In total, there are about 50 buildings that receive heat services from Youngstown Thermal and four that receive cooling.
Though PUCO would not speculate on what will happen to customers between now and when the receiving company takes over Youngstown Thermal, Avers maintained "the public utilities commission is protecting their interest."
Avers initiated the process of having PUCO investigate Youngstown Thermal's financial struggles because it was his "fiduciary responsibility" to do so.
"I had no choice," he said. "I have an obligation to tell them that we have a temporary problem and we need their help to solve it."
Avers says the process started last year when he realized the financial impact the loss of his largest customer, Youngstown State University, would have on his company. YSU left the system in June 2016.
"At that time, YSU represented approximately 60 percent of both the system load and revenues for Youngstown Thermal,"
PUCO's staff report says.
Then, Youngstown Thermal lost the U.S. Department of Energy Advanced Supercritical Project, which was supposed to supplement the loss of YSU. Avers said the Department of Energy no longer needed to use the Youngstown Thermal plant for testing.
"The steam they would have used was several times larger than YSU," Avers said.
Then, this year Avers says he started to have a hard time collecting revenue from four major unnamed customers. The Vindicator discovered Wednesday that one of the customers is the city of Youngstown for the city hall building. A broken meter led to four-plus years of underbilling that totals $141,570. The city disputes that figure.
"We have a unique setup of circumstances where major customers are refusing to pay for services that they have used," Avers said.
Now, utility suppliers have threatened to shut off the electricity and gas supply to the North Avenue Youngstown Thermal plant.
The management of Youngstown Thermal also informed the PUCO staff that it was unable to process payment for payroll.
Without proper staff members in key roles, the plant would be in immediate jeopardy. PUCO's report notes, for example, an operator holding an Ohio boiler license must be present to operate boilers used to generate steam.
"Without a licensed boiler operator on site, the Youngstown Thermal plant must be shut down until licensed operators can be found to properly run the plant," the report notes.
Concerned employees reached out to The Vindicator explaining that though employees have been paid, their paychecks came days late and they recently discovered that their health insurance has been canceled.
Another financial concern for the company is a $5 million loan it secured. The debt from the loan has now reached $7 million and will reach $9 million in December.
Youngstown Thermal also is behind in the annual payments it owes to the commission.
The staff of PUCO expressed concern for Youngstown Thermal's record keeping. In March 2015, the staff requested historical data and current data for expenses and revenues, operations and finances.
"The results of staff's analysis were inconclusive because the records provided by Youngstown Thermal were incomplete, inconsistent, inaccurate, and in many cases, unavailable," the report says.
The report further warned, "Youngstown Thermal has not filed for nor has it received commission approval for any of its [10] existing customer contracts, as required under Ohio law."
Youngstown Mayor John A. McNally is hopeful the commission will accept the recommendation made by PUCO staff.
The report "confirms what many people that have had to deal with Youngstown Thermal over the past year or 18 months — that there's a large degree of financial challenges that Thermal has been trying to deal with," McNally said. "I think between Youngstown Thermal and PUCO they will figure out a way to bridge a gap between now and the appointment of the receiver."
Earlier this week, Avers announced the Youngstown Thermal assets are for sale.
"We have a huge bump in the road in the and we have to get over it," Avers said. "It will survive."
More like this from vindy.com