NCNW honors Women of Distinction at luncheon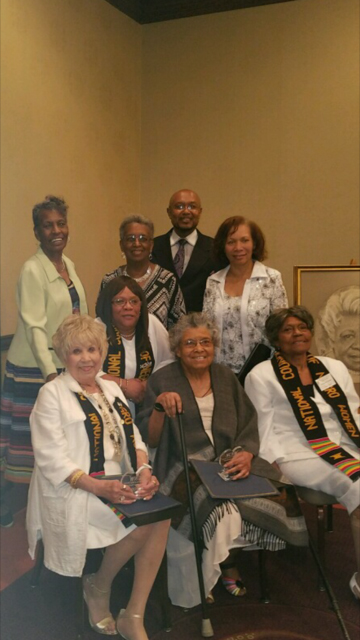 ---
NCNW honors Women of Distinction at luncheon
The Youngstown Section of the National Council of Negro Women Inc. recently had its fifth annual Women of Distinction Luncheon at the Holiday Inn in Boardman.
The luncheon honors women who demonstrate the values of Mary McLeod Bethune, who founded NCNW in 1935, and Dorothy Height, former NCNW president, in serving their community. The mistress of ceremonies for the event was Jennifer Howard, and musical guest was the Rev. Kenneth Simon, pastor of New Bethel Baptist Church.
Luncheon committee members were Antoinette Hunter, Jennifer Howard, Darla Dunlap, Kristy Gore, Sandy Britt, Karen Jackson-Cook, Edna Douglas, Diane Hyshaw and Evelyn Ross. The following received the Bethune-Height awards: Estella Bender, Frances Carter, Pamela Collins, Joyce Davidson, Carol Donnelly, June Ewing, Audrey Gillian, Ollie McCurdy, Josephine North, Louise Payne, Mildred Payne and Bobbe Reynolds.
Their stories were published last year by LIT Youngstown in the book "Phenomenal Women: Twelve Youngstown Stories." The Rev. Monica Beasley Martin also did a reenactment of three of the women's stories, Ewing, Mildred Payne and Louise Payne. Louise Payne, passed away two days after the event, just 16 days from her 102nd birthday. She was one of the founding members of the Youngstown Section in 1976 and was also a Life Member.
For information, visit www.ncnw.org. Above, from left, in front are Gillian, Angela Pickett and Bender and Carter. In the back row are Ewing, Davidson, Pastor Simon and Reynolds.
More like this from vindy.com